De impact van de klimaatcrisis: beleggers ondersteunen bij risico's en kansen
"The world is reaching the tipping point beyond which climate change may become irreversible. If this happens, we risk denying present and future generations the right to a healthy and sustainable planet." —Kofi Annan, voormalig secretaris-generaal van de Verenigde Naties.

Gezien de urgentie rond klimaatverandering, is de overgang naar een koolstofarme economie zowel essentieel als onvermijdbaar. Bedrijven moeten zich aanpassen als ze willen overleven en gedijen in een wereld die minder afhankelijk is van fossiele brandstoffen, en bedrijven moeten hun investeerders ondersteunen met zowel klimaatgerelateerde risico's als kansen.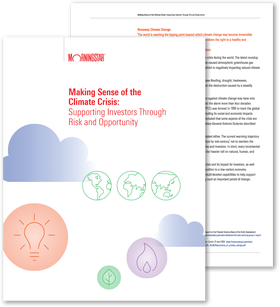 Download onze gids (ENG) om meer te ontdekken over:
De wereldwijde klimaatcrisis en de race naar net-zero
Fysieke en klimaatgerelateerde risico's voor beleggers
Hoe financiële markten een integrale rol gaan spelen in de transitie naar een koolstofarme economie
De toonaangevende oplossingen van Morningstar om beleggers te ondersteunen tijdens zo'n belangrijke verandering