Morningstar Indexes' ESG Risk/Return Analysis Reveals Mixed Results for 2021, Good Five-Year Numbers, and Stellar Downside Protection
Investing based on ESG criteria does not necessarily require a return sacrifice, as is sometimes assumed, but neither is it a guaranteed route to market-beating performance. What is certain is that any deviation from a market portfolio will produce a different outcome. Studying the past behavior of a range of ESG approaches and intended outcomes through the lens of Morningstar Indexes can help investors navigate the growing complexities of incorporating ESG objectives into the investment process and guide sustainability-focused investors going forward.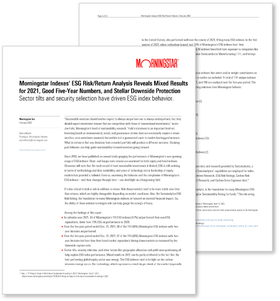 A comparison of the short- and longer-term performance of 100+ equity and bond ESG indexes to their non-ESG counterparts. Risk/return analysis is conducted across a variety of sustainable investing approaches and geographies.
How sector tilts, security selection, and other factors like geographic allocation and yield-curve positioning help explain ESG index performance.