Are Advisors Ready for Client Focused Reforms (CFRs)?
Client Focused Reforms (CFRs) will take effect in Canada at the end of 2021. To better understand how firms are addressing the new regulatory mandate, Morningstar surveyed over 200 Canadian financial industry professionals about attitudes toward the regulation, preparedness for compliance, and the impact to processes to try and determine—are firms and advisors ready for CFR?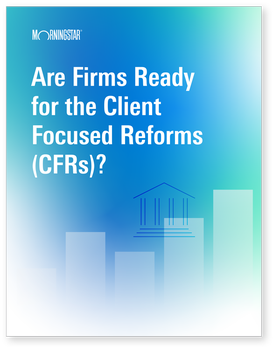 The differences in attitude and approach between head office teams and investor-facing advisors related to process changes driven by the Client Focused Reforms.
Where head offices and advisors are feeling the most confident regarding CFR readiness.
Key concerns about how firms will manage Know Your Product (KYP), Know Your Customer (KYC), and Conflict of Interest Requirements.