EU Climate Benchmarks and ESG Disclosures Explained
Reflective of the broad reach of the EU's Action Plan, benchmark providers face major new disclosure obligations. With a raft of new legislation to get to grips with, it will be a challenge for financial market participants to effectively navigate this transition and ensure compliance with benchmark requirements.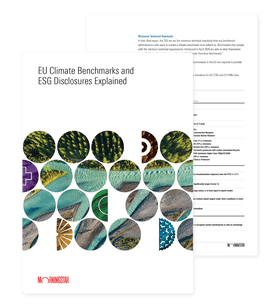 How the Benchmark Regulation has been amended in light of the EU Action Plan
Key pieces of legislation and implementation dates.
New solutions from Morningstar and Sustainalytics to help professionals during this transition period.