Morningstar Thematic Indexes Offer Superior Thematic Purity
Demand for thematic investment solutions has skyrocketed in recent years, spurring the launch of a record number of new thematic funds globally in 2021. With impressive demand growth for thematic funds likely to persist, the value proposition associated with thematic solutions from Morningstar Indexes is clear. By drawing on the in-depth expertise and forward-looking insights of Morningstar's equity research team, Morningstar Indexes delivers unparalleled thematic purity across a range of durable themes.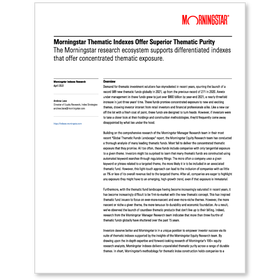 On overview of Morningstar Indexes' thematic focus areas and the disciplined approach used to determine which themes have staying power and merit new index development.
A look into how Morningstar Indexes' unique approach to thematic index construction leverages the comprehensive research and forward-looking insights of Morningstar's equity analysts.
Company-level case studies, including Waymo and Tesla, that illustrate the uniqueness of Morningstar Indexes' approach.