One major theme that we've seen over the last few years is the increasing importance of low-fee products. Investors have embraced the new model of low-cost, passive investing and are turning away from high-cost active funds. In this post, we'll look at five fund flows charts that all show major trends related to this theme.
At the end of 2017, total assets in U.S. mutual funds and exchange-traded funds reached a new record of just over $18 trillion. That's an impressive result considering that total assets were only $5.5 trillion just nine years ago. This robust growth is mainly a result of strong equity and bond returns, but also significant new investment flows.
Fund flows data shows assets in mutual funds still dominate ETFs
In the last few years, press coverage and advertising has focused on ETFs. But you may be surprised to know that ETFs account for only 19% of total assets. Mutual funds continue to dominate for a couple reasons: 1) they're the older investment vehicle, and 2) they're still the primary vehicle available in corporate retirement plans, such as 401(k) and 403(b) plans. Until ETFs can break into the retirement plan market, mutual funds will be a big part of investors' portfolios.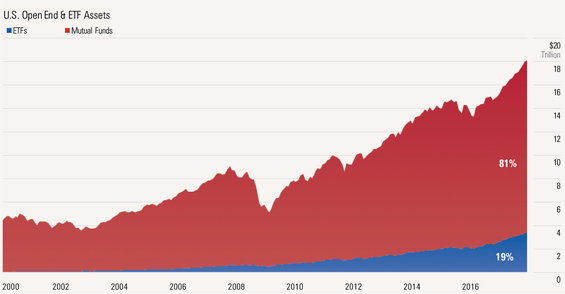 ETF growth shows where investors are putting their dollars
ETF growth has been very consistent and shows no signs of slowing down. ETFs had an organic growth rate of 16.5% on average over the last 10 years, which is much higher than the 2% growth of mutual funds. Organic growth strips out the effect of market returns to highlight where investors are putting their new investment dollars.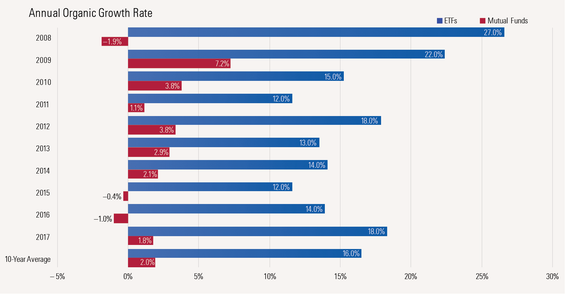 Vanguard and BlackRock have benefited from the shift to passive investing driven by the growth of ETFs
The growth of ETFs has been driven by the massive shift to passive investing. The two biggest beneficiaries of this passive trend are Vanguard and BlackRock. Vanguard is known for its unique client-owned structure that mandates that all funds be run at cost. Because Vanguard doesn't need to earn a profit on its funds, the company is very difficult to compete with. The only firm that has gone toe-to-toe with Vanguard is BlackRock, with its iShares lineup of ETFs. While iShares didn't invent the ETF, it was the first firm to see the true potential of the vehicle. The early entry of iShares into the ETF market allowed the firm to build strong brand recognition and become known for its customer service and education materials.
These two successful firms are dominating the fund industry. In 2017, 81% of all new investor dollars went to Vanguard or BlackRock. Their low-cost lineups of index mutual funds and ETFs have become the default investment option for people switching out of high-cost, active funds. As you can see in the fund flows chart below, this trend seems to be strengthening as Vanguard and BlackRock gain a higher proportion of flows. Whereas, in the last three years, the rest of the industry is struggling just to get consistently positive flows.
As Vanguard and BlackRock get bigger, they can lower fees further and offer more services to investors. This only increases their competitive advantage.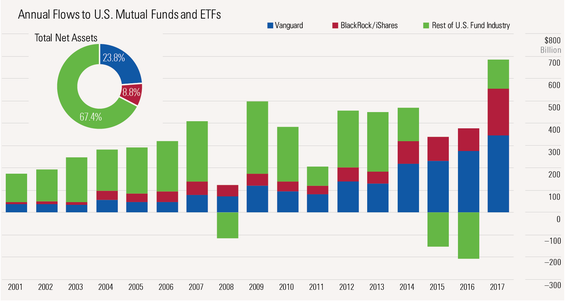 Fees are declining across the board
The fund flows chart below shows the average fee charged by active and passive funds through time. Every year, fees tend to decline in aggregate. This decline comes mostly from investors selling high-fee, active funds and moving their money to low-fee passive funds. Fund companies also have been lowering fees over time, but changes in fund costs have been much slower than might be expected.
For example, cutting a high fee of 1.5% to 1.2% would likely do little to retain investors, but it would hurt profit margins substantially. So from a profit perspective, it can make more sense for the fund company to keep fees stable.
On passive fund side, fees have continued to decline, but at a slowing rate. As fees approach zero, it will become increasingly difficult for fee declines to continue.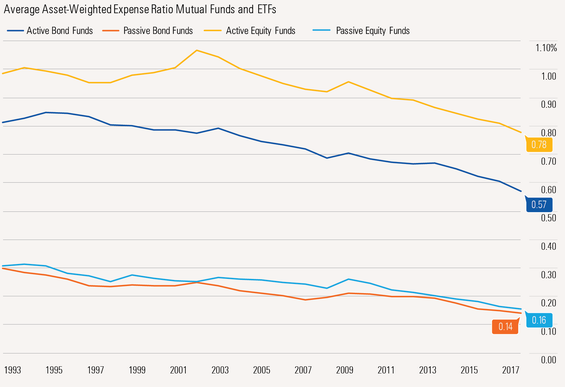 Low-cost funds are seeing positive fund flows
The final fund flows chart looks at active funds and then groups them by fee quintiles. The annual flows of the lowest cost 20% of funds are compared to the flows of the other 80%. The fee groups are relative to a fund's asset class. Therefore, a bond fund's fee is only compared to other bond funds.
There are three distinct periods on the chart. The first period is from 1990 to 2002, in which low-cost funds did well but the other 80% of the universe received more flows in aggregate. The next period, from 2003 to 2013, shows that low-fee funds received consistently higher flows than the higher-cost group.
Finally, from 2014 to the present, the only way to get a positive flow is to offer low-cost funds. It's been a gradual transition for over 20 years, but we've reached the point where it simply doesn't make sense for a fund company to launch a new fund that isn't in the lowest-fee group.
The outflows out of high-fee, active funds are huge and appear to be accelerating downward. In the years ahead, we will likely see many small fund companies close or be bought by large firms. If firms don't have the scale or resources to offer low costs, they won't be in business in the future.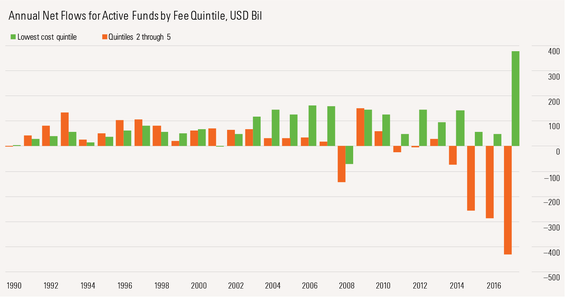 This research was conducted using Morningstar Direct. If you're a user, log in.