Global Sustainable Fund Flows: Q2 2023 in Review
ESG funds have been battered by high inflation, rising interest rates, and recession fears. Despite the lower net inflows and higher valuations, global sustainable fund assets hit nearly USD 2.8 trillion at the end of June, with Europe witnessing the most significant reduction of new sustainable fund launches.
This quarterly report examines open-end funds and ETFs focused on impact, sustainability, or environmental, social, and governance (ESG) risk factors. This edition of the Global Sustainable Fund Flows report specifically covers recent activity in the global sustainable fund universe and details regional flows, assets, and launches for the second quarter of 2023.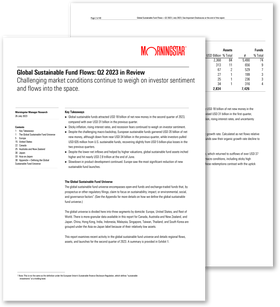 Compare ETF and mutual fund flows in Europe, the United States, Asia, Canada, and Australia/New Zealand.
Track trends in ESG fund launches quarter over quarter.
Analyze leading and lagging investment strategies.
Stay on top of global regulatory updates.