User Guide
Finding a Stock Analyst Report
Example: To evaluate Boeing, begin typing the name or the ticker (BA) in the upper left search box, then select the stock.
Be selecting this stock you are direct to Stock Analyst Report with Quote tab selected by default. Each tab offers in depth information.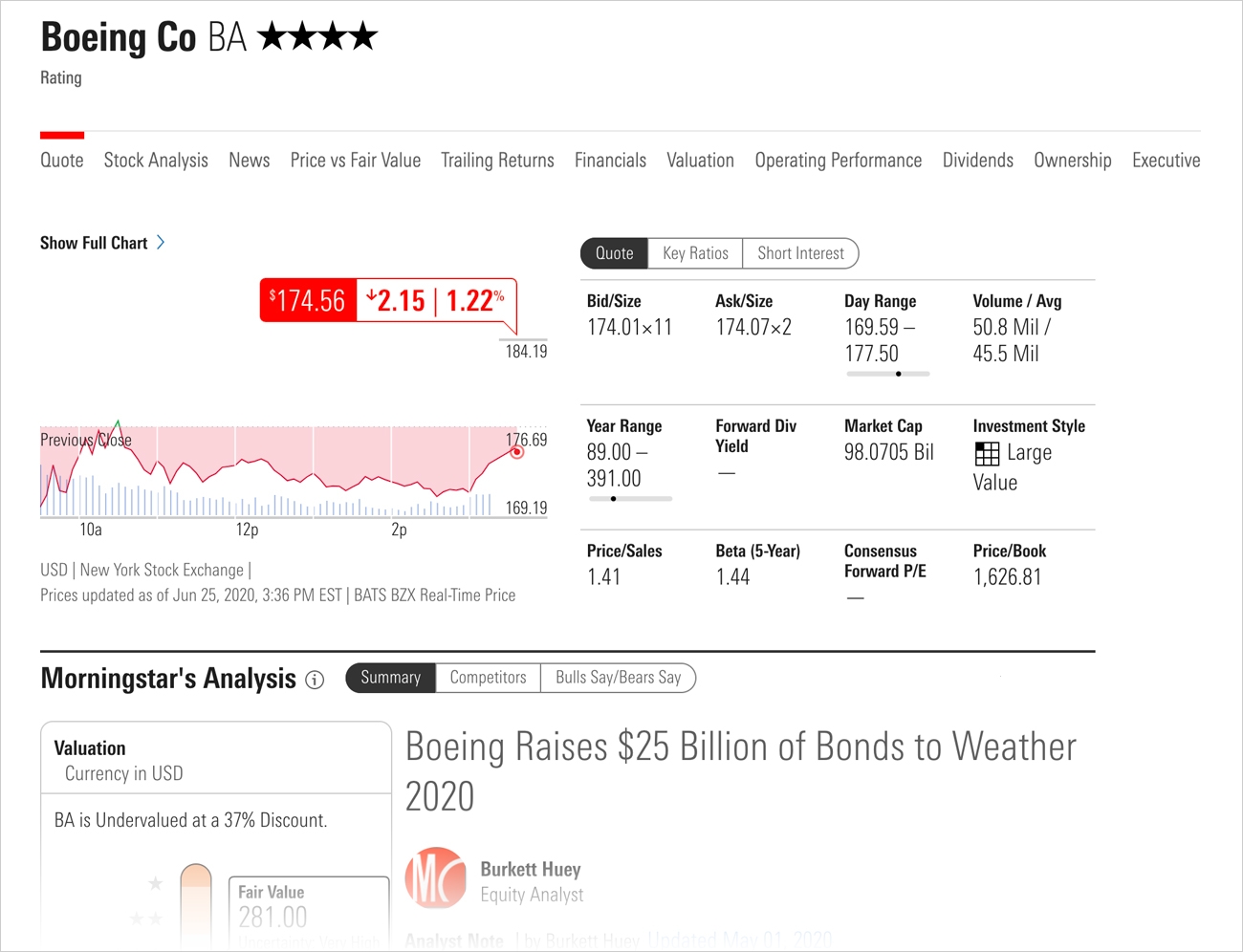 On the stock's quote page, the following tabs are available.
Quote: Contains bid/size, ask/size, day range, volume / avg, year range, forward div yield, market cap, investment style, price/sales, beta, (5-year), consensus forward P/E, price/book, a snapshot of Morningstar analysis, analyst note, view report archive, company profile.
Stock Analysis: Access our analyst's comprehensive review, including Morningstar's exclusive Star Rating, Moat Rating and Fair Value Estimate.
News: contains articles from Market Watch, PR Newswire, Global News Select.
Price vs Fair Value: contains price vs fair value chart.
Trailing Returns: contains trailing returns chart (daily, monthly, quarterly).
Financials: contains valuation, growth (3-year annualized), financial health, profitability, income statement, balance sheet, cash flow.
Valuation: contains valuation chart.
Operating Performance: contains fiscal chart, financial leverage chart.
Dividends: contains dividends & splits chart, ex-dividend date, payable date, divided type, amount, dividend yield (TTM), dividend reinvestment plan.
Ownership: contains ownership data for funds and institutions.
Executive: contains key executives, board of directors, committees, transaction history.