Morningstar Quarterly Style Monitor: Q2 2022
The Morningstar Style Monitor is designed to help investors stay on top of style trends. This quarterly publication tracks members of the Morningstar Broad Style Index family and provides insights into their performance drivers and portfolio composition.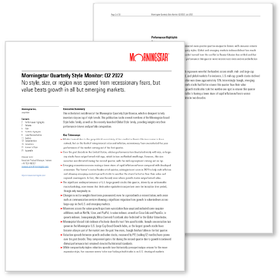 Market turmoil due to geopolitical uncertainty seems to have calmed. However, on the back of rising interest rates and inflation, recessionary fears exacerbated poor market performance coming out of the first quarter.
Emerging economies are now seeing a lower share of rapid inflation sufferers compared with developed economies. The former's central banks acted quicker, raising interest rates in 2021 to help curb inflation and allowing emerging-markets growth stocks to weather the storm far better than their value and regional counterparts. In fact, this was the only area where growth stocks outperformed value.
Stark movement across the value-growth spectrum included surprise additions to value indexes, such as Netflix, Uber, and PayPal, as well as to growth indexes, such as Coca-Cola and PepsiCo. Unsurprisingly, Meta (formerly Facebook) also finds itself in the Global Value Index.