Choose Your Index Based on Suitability and Cost, Not Brand
The index industry is dominated by a handful of large providers, keeping benchmark licensing costs artificially high. Morningstar Indexes Strategist, Dan Lefkovitz, has identified a market solution to high fees: more competition. Interchangeability of broad market indexes is a cost-savings opportunity for asset managers and the investors they serve.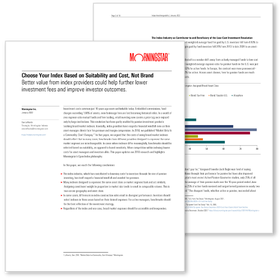 A comparison of equity and fixed income indexes across asset classes and select market segments.
An argument for why, regardless of the index and use case, broad market exposure should be accessible and inexpensive.
How taking the path of least resistance to a well-known index without considering the suitability of the benchmark can cause problems down the road.