Editor's note: We have published new research and enhanced our methodology. Read our evaluation of the best HSA providers of 2022.
Health savings accounts are valuable when covering medical expenses as they occur. People can contribute pretax dollars to their HSA, grow those dollars (modestly) thanks to HSA interest rates provided by the checking account, and easily withdraw that money tax-free to cover qualified medical expenses.
In fact, HSAs are more often used as spending accounts than investing accounts. Among the providers we evaluated, 70% of assets are in spending accounts versus 30% in investing accounts.
This year's study of HSAs as spending accounts shows that HSA interest rates remain low at most providers: 0.01% is the lowest rate and 0.25% is the second-highest rate. Our top-rated provider offers an attractive 1.07% yield, which sets it far ahead of its peers but still isn't particularly compelling.
Because of these low interest rates, maintenance fees are a key consideration when selecting an HSA. As maintenance fees outweigh interest earned at most providers, account holders that do not contribute new money will see their balances decrease year over year.
We evaluated HSA spending accounts from 11 providers by looking at three factors: maintenance fees, interest rates earned, and additional fees. Additional fees include charges such as paper statements, debit card replacement, or excess contribution fees.
We highlight additional fees in our report, but they don't sway our overall opinions of HSAs as spending accounts because these fees tend to be relatively infrequent or easily avoidable. We only evaluated providers' FDIC-insured option, as we believe healthcare dollars should be safeguarded in the event of a catastrophe.
The best HSA spending accounts in our study charge zero maintenance fees
Fidelity, the newcomer of the group, is the only provider with positive marks across the board. It doesn't charge maintenance fees or any additional fees, and it offers higher interest rates on deposits than competitors.
Lively comes in second place—it doesn't charge maintenance fees or additional fees, and it offers reasonable interest rates that rank as the third highest among the group.
The HSA Authority comes in third despite having the most additional fees and the lowest interest rate of the group. Account holders can easily avoid most of the additional fees, and they will still see modest account growth because the low interest rate isn't offset by maintenance fees.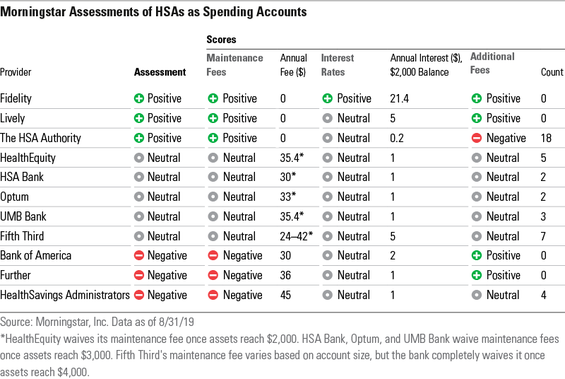 High fees can offset low interest rates and shrink HSA account balances
There are significant differences in fees paid among the HSA providers in our study. The top providers—Fidelity, Lively, and The HSA Authority—stand out for steering clear of maintenance fees altogether. The benefit to investors is apparent when we look at maintenance fees and HSA interest rates together.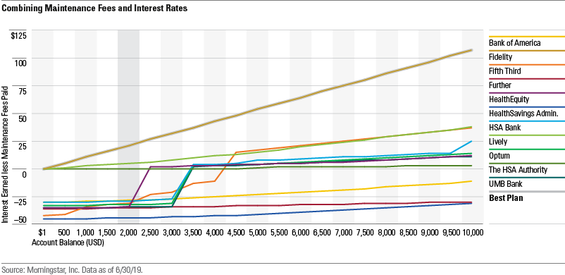 Above, our top-rated providers see consistent growth regardless of account balance because there are no maintenance fees to be paid and they earn consistent interest. Fidelity comes out well ahead thanks to its high interest rate, and Lively easily tops The HSA Authority, the lowest yielder among the providers.
Investors with Bank of America, Further, and HealthSavings Administrators lose money annually, even as account balances get as high as $10,000, because they never waive their maintenance fees.
With the remaining providers, account holders graduate from net losses to net gains once maintenance fees are waived at account balances of $2,000 to $4,000. The average HSA spending account balance among the providers in our study is $2,000, so these fee waivers don't apply to most.
Morningstar's best practices for HSA spending accounts
We believe the best HSA spending accounts should do more for individuals than just provide tax benefits. Here is our view of best practices to look out for when evaluating HSA providers:
Maintenance Fees: Offer checking accounts with no maintenance fees regardless of account size.
Interest Rates: Give reasonable interest rates on deposits.
Additional Fees: Eliminate or limit additional fees.
Insurance: Offer FDIC insurance on the checking account.