Matters of sustainability are growing in prominence, as investors become more sensitive to these issues and an increasing number of companies make substantial improvements in terms of environmental, social, and governance criteria.
According to the latest edition of the Morningstar Sustainability Atlas, European countries—particularly the Northerners—lead the pack in ESG practices. This is somewhat expected, since those nations have always been ahead of the curve on this front, but a few other countries also feature exceptionally strong sustainability profiles.
The Morningstar Sustainability Atlas uses the constituents of Morningstar country indexes to examine the sustainability profiles of 46 country-specific equity markets. The company-level scores are sourced from Sustainalytics, which also powers the Morningstar Sustainability Rating™ for funds. Financial advisors and asset managers can use this data to identify countries with the greatest ESG investment opportunities and most significant risks. They also have the ability to track these countries' ESG-related Portfolio Controversy Scores.
Here, we take a look at some of the Sustainability Atlas's key findings.
Global sustainability scores: Finland comes out on top; China in the bottom quintile
As shown on the map below, the Nordics and eurozone came out on top of sustainability rankings. Specifically, Denmark scored highest on social criteria, the Netherlands on governance criteria, and Portugal on environmental criteria. On the other hand, China, Russia, and Middle Eastern countries assumed the lowest sustainability ratings.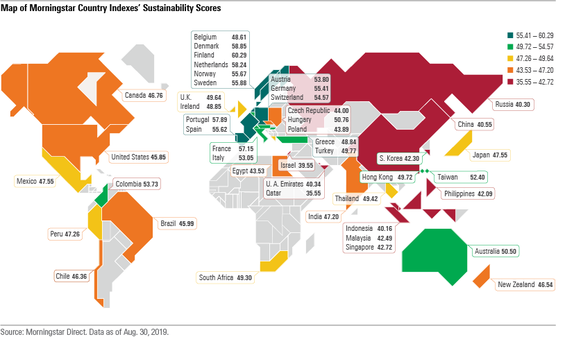 Countries with noteworthy rankings include:
Finland once again takes the title of the world's most sustainable stock market, thanks to holdings like Nokia (an ESG leader within the global technology hardware industry) and KONE (an ESG leader in the machinery sector).
Colombia is still the world's most sustainable non-European market, though it has fallen out of the world's top tier since the last report. Key companies include Bancolombia, an outperformer among global banks, and Cementos Argos, a leader among global construction-material producers.
Taiwan, ranking 14th out of 46, is the top Asian market in terms of sustainability. This is largely owed to the role played by Taiwan Semiconductor Manufacturing, a global ESG leader.
The United States again ranks in the fourth quintile in terms of sustainability. Reasons for this ranking include controversy and poor governance scores from companies like Johnson & Johnson, Facebook, and Alphabet.
China falls in the bottom quintile for rankings on all three global ESG criteria. Technology player Lenovo is the only company in the Morningstar China Index considered to be a leader on ESG. China Resources Gas, Guangdong Investment, and PetroChina are all viewed as laggards.
Controversies can deter global ESG leaders substantially
Sustainalytics defines a controversy as any incident that has an impact on the environment or society, and therefore poses a risk to the responsible company and its overall sustainability performance.
For example:
Switzerland scores very well on global ESG criteria (ranking third out of 46), but the number of controversies involving key companies such as Novartis and Credit Suisse Group lower its overall Portfolio Sustainability Score, so that it comes in much lower—at 10th—on that rating scale.
Brazil ranks 18th on the global ESG scale but slips to 32nd place for overall Portfolio Sustainability Score, owing to controversies from some of the country's largest companies, like Vale S.A. and Petróleo Brasileiro.
The Morningstar Italy Index includes several top constituents that face high levels of controversy, including oil major Eni, Banca Carige, and Atlantia, which was involved in the Morandi Bridge collapse in Genoa in August 2018.
The most controversy-free markets tend to be small. But for a large market—and despite the scandal involving Nissan's chairman last year—Japan is notably light on ESG-related controversy.
The U.S. lags but shows low carbon risk
The U.S. ranks in the fourth quintile of global sustainability leaders, rising one position from the previous Sustainability Atlas (from 34th to 33rd place in the global sustainability ranking). The U.S. market scores fairly well from an environmental perspective, but it also shows a significant level of controversy and poor governance scores from companies like Netflix and Amazon.
Then again, despite being the world's second-largest carbon emitter (right after China), the U.S. boasts a low level of carbon risk due to heavy healthcare and technology weights, comprising more than 36% of the index.