We've published new research. View the latest here.
In what proved to be a tough year for mutual funds overall, the small but growing subset of sustainable funds enjoyed a record year of inflows and strong relative performance in 2018. The group expanded to include fund debuts and a host of new converts that rewrote their prospectuses to reflect the growing importance of environmental, social, and governance considerations in their investment processes.
In our most recent Sustainable Funds U.S. Landscape Report, Jon Hale, our global director of sustainability research, examines key developments in the sustainability funds group.
Another record year for ESG flows
The ESG fund group—defined in our research as open-end and exchange-traded funds that self-select as sustainability-focused offerings—attracted record net flows in 2018 despite unfavorable market conditions. This stands in stark contrast with the overall U.S. fund universe, which netted its lowest calendar-year flows since 2008. Non-ESG funds domiciled in the United States collected less than half their historical annual 2008-17 average net flows last year; meanwhile ESG funds continued a six-year string of ever-higher annual net flows.
In 2018, these funds pulled in nearly $5.5 billion in estimated net flows; assets under management in the subset—which includes funds that have converted to ESG strategies—reached $161 billion.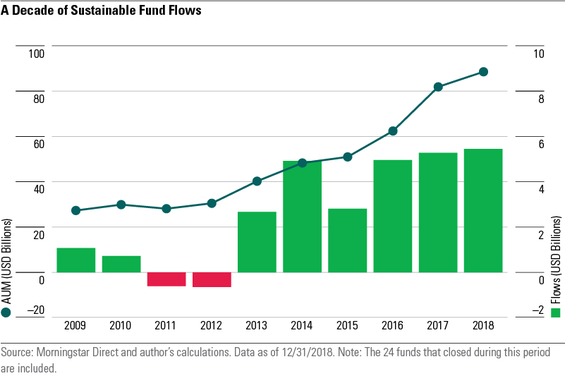 ESG ETFs gain ground
Nearly 40% of those inflows were captured by exchange-traded products, including those fielded by giant provider iShares. The number of sustainable ETFs launched between 2016 and 2018 just about kept pace with open-end funds; of the 37 fund launches in 2018, 18 were ETFs.
It's worth noting that the number of sustainable ETF options available to investors grew dramatically over the same period. ESG-oriented ETFs used to be mainly sustainable sector offerings, but over the past three years, most new launches were diversified equity strategies that can serve as core holdings.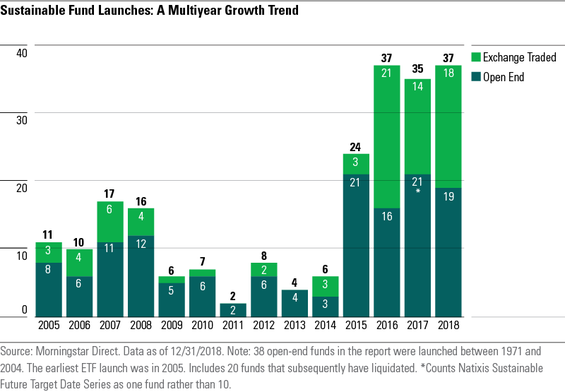 The rising dominance of ETFs matters here—both for investors, who struggle to balance their desire to integrate ESG into their portfolios with their skepticism of higher fees, and for fund shops that have long-established positions in this space. Behemoths like BlackRock and Vanguard bring increasing fee pressure into an area that has historically been associated with higher costs.
Sustainable funds' relative performance is strong
From an investment performance perspective, 2018 was a solid year for sustainable funds. On average, they outperformed their peers, with 63% of sustainable funds finishing in the top half of their respective Morningstar Categories. Another strong year meant that 58% of the subset ranked in their category's top half over the trailing five years, which included periods of equity market strength, such as 2017, and moderation, such as 2015 when the S&P 500 barely managed a positive return.

Relative to their conventional peers, sustainable funds have held their own in up markets and outperformed in down markets over the past four years.
4 approaches to sustainable funds in 2018
We saw four broad approaches to sustainability funds emerge in last year:
ESG Consideration: Portfolio management teams incorporate ESG criteria without orienting the entire investment process and outcomes around it.
ESG Integration: Portfolio management teams fully integrate ESG factors into the investment process.
Impact: Portfolio management teams invest explicitly for measurable societal or environmental impact alongside financial return.
Sustainable Sector: Characterized by an investment process that focuses only on those areas of the market linked to the development of the green economy.

New converts
We note that many fund shops are increasingly adding ESG criteria to the investment processes of existing funds and, in some cases, completely repurposing existing offerings as sustainable strategies. In 2018, 51 U.S. funds added ESG criteria to their prospectuses, indicating that they are formally considering ESG issues as one component in their security-selection process. Not surprisingly, these funds generally fall into the ESG consideration approach, but the changes indicate that ESG factors are increasingly becoming a standard part of many investment processes.