Thank You For Downloading the Mind the Gap 2018 Report
You will receive an email with a link to download your copy shortly.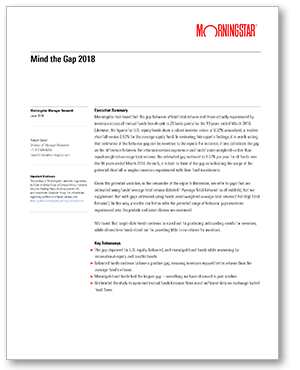 If you don't receive an email from us please check your spam folder and be sure to allow emails from Morningstar.

---
Watch our webinar about our annual "Mind the Gap" study on investor returns
Hear Morningstar's Russel Kinnel discuss the study's key findings in our recent webinar. Learn how the gap between official total returns and those actually experienced by investors across all mutual funds has shrunk to 26 basis points over the 10 years that ended March 2018.
---
Share This Paper: