Thank You For Downloading "The Default Investment Decision" 
You will receive an email with a link to download your copy shortly.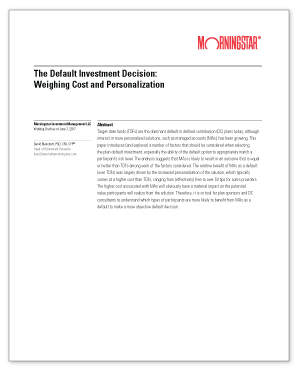 If you don't receive an email from us please check your spam folder and be sure to allow emails from Morningstar.
---
Watch the recording of our recent webinar, "Should You Follow the Crowd with Target-Date Fund Investing?"
View the recording of our recent webinar with Jeff Holt, director of multi-asset & alternative strategies and Thomas Idzorek, chief investment officer, retirement as they explore the growing trend of new assets flowing into low-cost, passive target-date funds and the implications this trend may have for plan sponsors when selecting a target-date fund for their plan.
---
Share This Paper: