Stay Up to Date With our Latest Retirement Insights
Sign up to receive the latest independent research and retirement insights for plan sponsors, plan consultants, and plan advisors, curated by Morningstar Investment Management LLC.
---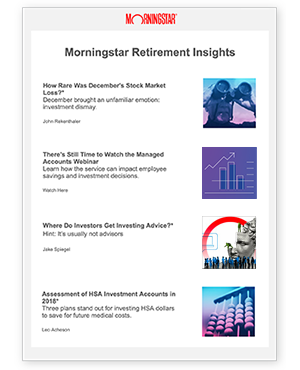 Each newsletter features:
Morningstar Investment Management's latest retirement research and thought leadership

Updates and commentary on industry regulations

The quarterly Target-Date Report and Markets Observer

Invitations to upcoming events and webinars
Important Disclosure Morningstar Investment Management LLC is a registered investment adviser and subsidiary of Morningstar, Inc. The Morningstar name and logo are registered marks of Morningstar, Inc. Opinions expressed are as of the date indicated; such opinions are subject to change without notice. Morningstar Investment Management and its affiliates shall not be responsible for any trading decisions, damages, or other losses resulting from, or related to, the information, data, analyses or opinions or their use. This commentary is for informational purposes only. The information data, analyses, and opinions presented herein do not constitute investment advice, are provided solely for informational purposes and therefore are not an offer to buy or sell a security. Before making any investment decision, please consider consulting a financial or tax professional regarding your unique situation.