How Can You Help Your Employees Retire?
You've read the recent headlines about retirement: Employees aren't prepared. Employers aren't confident. Retirement is in trouble. But the path toward solving the problem isn't well-defined. How can plan sponsors assist employees who are unsure about what the future holds?
We outline the pros and cons of managed accounts, custom target-date solutions, and target-date funds.
---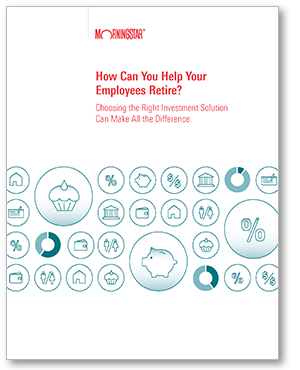 In this paper, you will learn:
What the differences are between target-date funds and managed accounts

When a plan sponsor should consider offering each solution or both

How to determine which option is right for your plan
Morningstar Investment Management LLC is a registered investment adviser and subsidiary of Morningstar, Inc. The Morningstar name and logo are registered marks of Morningstar, Inc. Opinions expressed are subject to change without notice. Morningstar Investment Management shall not be responsible for any trading decisions, damages, or other losses resulting from, or related to, the information, data, analyses or opinions or their use. This commentary is for informational purposes only. The information, data, analyses, and opinions presented herein do not constitute investment advice, are provided solely for informational purposes and therefore are not an offer to buy or sell a security. Before making any investment decision, please consider consulting a financial or tax professional regarding your unique situation. Since this paper's publish date of February 11, 2014, the Morningstar Investment Management division has been restructured. As of December 31, 2015, Morningstar Associates, LLC was re-named Morningstar Investment Management LLC and Ibbotson Associates, Inc. was merged into this entity.