Tesla is normally classified as an auto manufacturer with competitors like Honda Motor. But in our new system of comparing companies, we'd add firms such as Vivint Solar to the list of competitors. Why? Because Tesla is also in the business of energy storage.
With our new machine-learning-based approach called Morningstar Equity Comparables, we can find all of a company's competitors regardless of sector.
A new approach to identifying comparable companies
This new method automatically generates a full list of comparable companies, even if a firm's competitors aren't all in the same sector or industry. A company's comparability to another is based on a score that helps us determine how similar the two companies are. We also use this score to generate a ranked list of comparable companies.
Who are Tesla's competitors?
Tesla is a great example of a company that works well in our new system. While Tesla is normally classified as an auto manufacturer, it also is in the business of energy storage—including the sale of solar panels and batteries for commercial and residential use. When looking at a list of the most comparable companies to Tesla, the ideal similar firms would be ones related to the same mix of automotive, battery technology, and solar energy industries. Below, you can see a list of some Tesla competitors, with scores, that were outputted from our model. You can see that we find competitors across all those industries. The closer the scores are to zero, the closer the companies are to each other. We consider a score under 4 to mean the companies are competitors.
Competitor (Score)
Plug Power (2.07)
Honda Motor (2.21)
Vivint Solar (2.39)
General Motors (2.58)
Daimler (2.67)
Sunrun (2.80)
First Solar (2.92)
For a snapshot visualization of our model, we can create a plot where each dot represents a company. The closer two dots are together, the more similar the companies are. The colors of each dot in the plot represent the classic sector that company is in.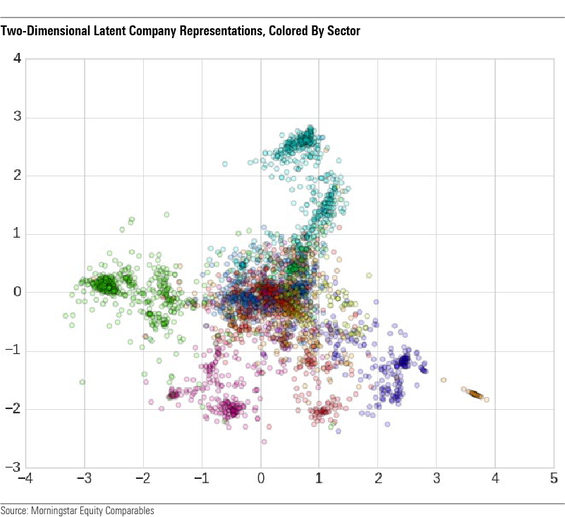 Because the dots are usually close to dots of the same color, you can see that companies are mostly related to other companies in their sector, but many companies are close to a few sectors. This shows that the model provides us with a flexible, cross-sector list of comparable companies.
How to use Equity Comparables in practice
Consider the task of pricing an equity using relative valuation. An equity analyst might normally pick the companies to use for the relative valuation based on research of the industry a company is in. While equity analysts may specialize in an industry and have a good grasp of the companies within it, they may not be aware of the companies outside of that industry that are similar to the company they are doing valuations for. Using Equity Comparables, analysts can now find those companies that are similar but outside of the industry. Analysts now also have a tool to give them weights to use for the relative valuation.
Equity Comparables can also be used for diversification, portfolio construction, and pairs trading. The scores can be used as inputs to other machine-learning models, too.
To learn more about how Equity Comparables can improve competitor analysis, join our webinar on Sept. 4.