Transform your portfolio and practice management with Morningstar OfficeSM Suite.
Paint a clear picture for your clients.
Prove the value of advice by connecting client choices with the progress they are making toward their financial goals, using data and research you trust.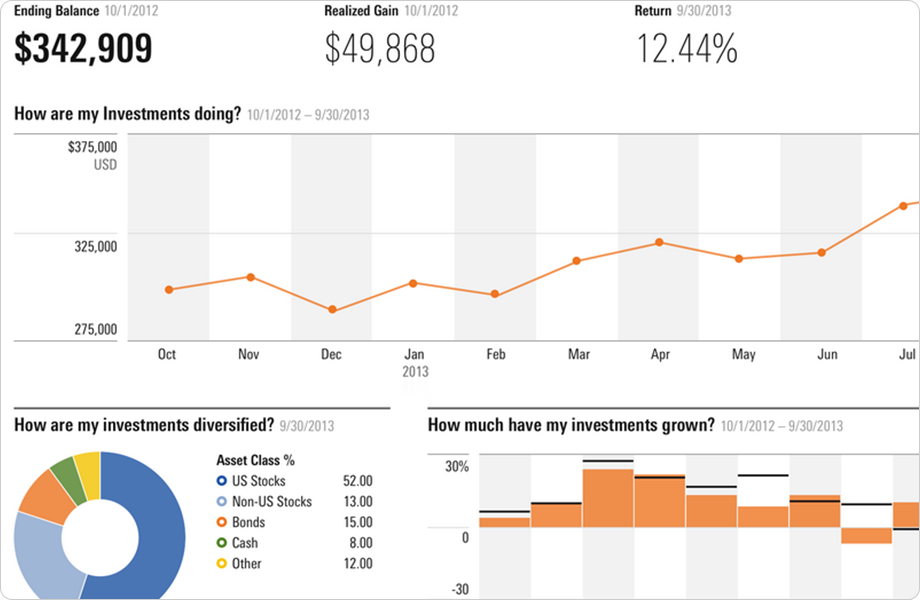 Connect with clients anytime, anywhere, using an interactive portal for updates and insights that can help them stay focused on their goals.
Free up time to grow your business.
We'll handle the data, so you can focus on the big ideas you've been thinking about—like new ways to coach your clients.

Portfolio Accounting and Reporting
See a holistic view of your custodial and held away accounts and track client holdings, dividends, and returns. Create reports with snapshot views and detailed asset allocations.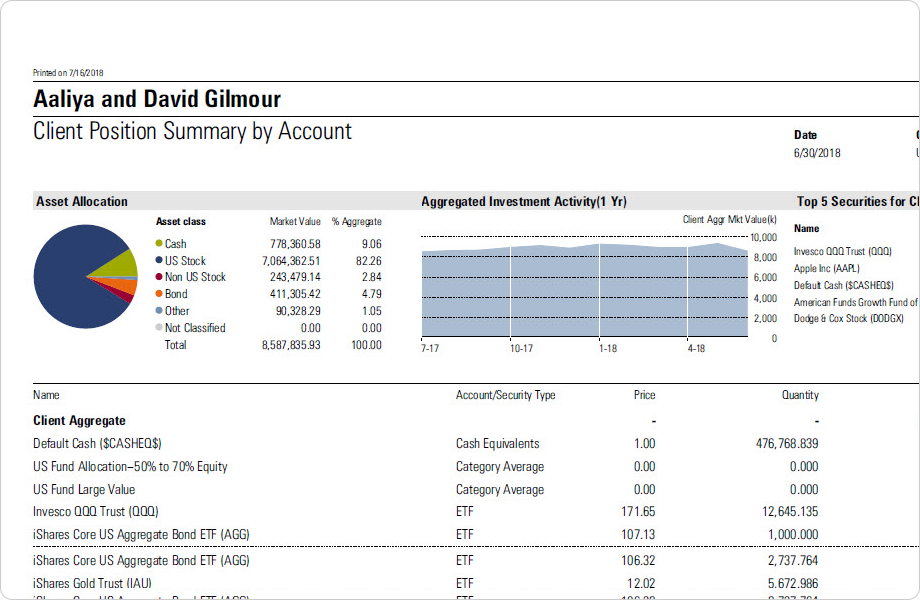 A flexible platform to link your tools together.
Keep using the technology you love and do less of the work you don't (like manual data entry). Our portfolio management system connects data and research to your tools so you can accomplish more.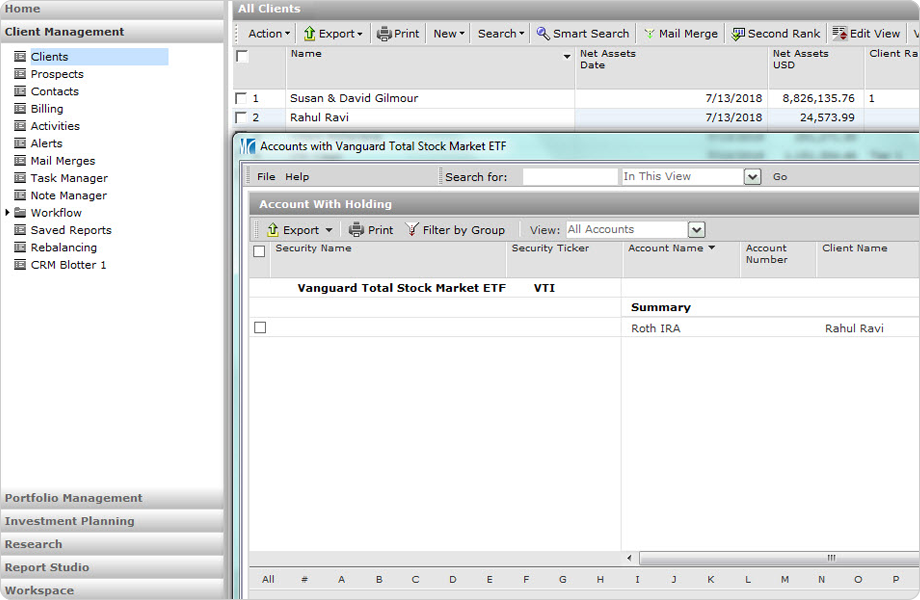 Build portfolios powered by our data and gain access to our independent research while you are making key decisions.
More Tools for Tomorrow's Advisor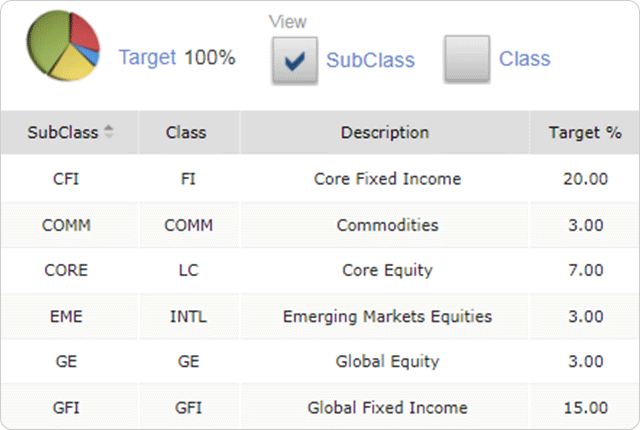 Tax-Aware Rebalancing
Maximize tax savings for all clients, using Morningstar Total Rebalance Expert. You can align allocations on personal factors and market changes—not just at the end of the quarter.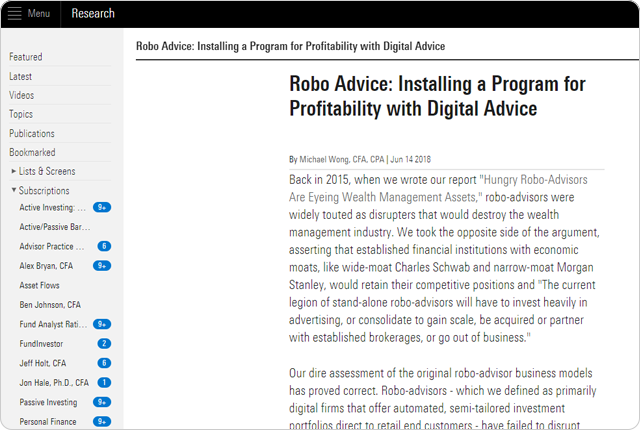 Analyst Research
Content curated for you, including practical research and investor-focused reports to support your best-interest recommendations.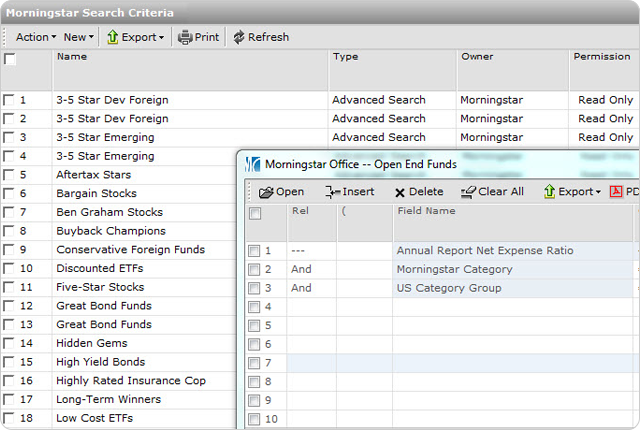 Security Research and Screening
Sophisticated ways to work with the data can help you find the best managers, spot market trends, and build model portfolios.
Ready to Show Clients How You Can Help?
Try Morningstar Office Suite to focus on building relationships with your clients.
Our platform fully integrates with third-party tools to support the way you want to work.


---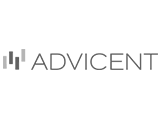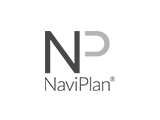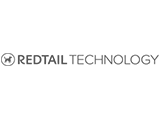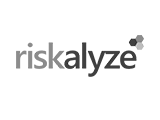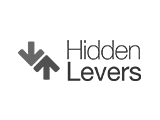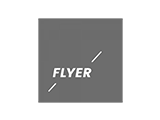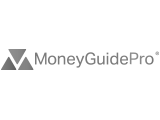 Morningstar helps me better serve my clients...I aggregate all their accounts, review their investments, their asset allocation, sector diversification, income potential, etc... I use the research tools in my mutual fund and stock analysis, and it's all integrated into the best portfolio analysis and reporting software that I've used!
See Our Software in Action.
Learn how to make an impact on your firm with the latest tools to upgrade your portfolio and practice management in this webinar recording.
Morningstar OfficeSM Suite is an approved LPL Financial consolidated reporting platform.