Made to Stick: The Drivers of Default Investment Acceptance in Defined Contribution Plans
Past research suggests participant demographics can have a significant impact on the acceptance and continued usage of default investments in defined contribution (DC) plans, but little is known about the affect of fund attributes. In this paper, we explore how key characteristics of a plan's default target-date fund may impact a participant's decisions to accept and remain in a default investment.
---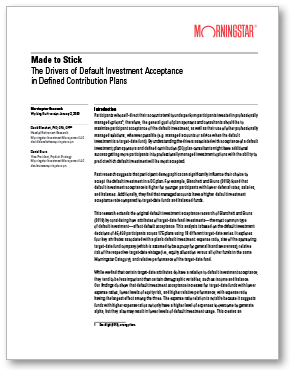 In this paper, you will learn:
How default investment acceptance varies by fund attributes

A refresher of the relationship between participant demographics and default investment acceptance

Key considerations when choosing between potential default investment options
Sign up to receive your copy:
Morningstar Investment Management LLC is a registered investment adviser and subsidiary of Morningstar, Inc. The Morningstar name and logo are registered marks of Morningstar, Inc. Opinions expressed are subject to change without notice. Morningstar Investment Management shall not be responsible for any trading decisions, damages, or other losses resulting from, or related to, the information, data, analyses or opinions or their use. This commentary is for informational purposes only. The information, data, analyses, and opinions presented herein do not constitute investment advice, are provided solely for informational purposes and therefore are not an offer to buy or sell a security. Before making any investment decision, please consider consulting a financial or tax professional regarding your unique situation.