It's undeniable that sustainable investing has experienced massive growth over the past decade—but what it means to use environmental, social, and corporate governance, or ESG, criteria in an investment strategy differs between people and funds.
To evaluate this, we've developed four categories to sort funds in this sector. The categories represent different ways that funds incorporate sustainability into their practices:
ESG Consideration funds consider ESG factors but sustainability is not central to their mission.
ESG Focus funds have an intentional ESG focus. These funds use exclusions, engage in active ownership, and incorporate ESG into security selection and portfolio construction.
Impact/Thematic funds have an intentional impact or thematic focus. They tend to follow the same practices as ESG Focus funds but also seek impact alongside financial returns.
Sustainable Sector funds focus on the green economy, including renewable energy, energy efficiency, environmental services, climate resilience, water, green real estate, green transportation, and food.
Morningstar's latest Sustainability Landscape Report maps out where these different types of funds stand as of the end of 2019.
1. ESG Consideration Funds
Funds in this category consider ESG to be a part of their process but have not made it a central focus (and therefore are not technically classified as sustainable funds). As shown on the chart below, the number of funds that follow this practice increased nearly sixfold in a year—up from 81 in 2018 to 564 at the end of 2019.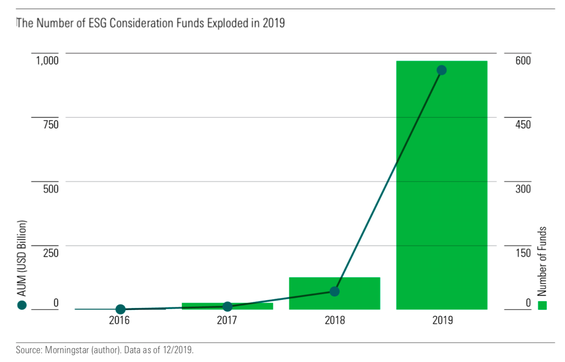 There are a few reasons why asset managers were so drawn to ESG Consideration funds in 2019, including:
growing recognition of the relevance of ESG factors in evaluating investments,
greater capacity to evaluate ESG factors (owing to increased analytical resources and personnel), and
a desire to signal their ESG awareness to end investors.
Asset managers who made these adjustments to the prospectuses of a substantial portion of their funds include BMO, ClearBridge, Eaton Vance, Hartford, MFS, and Franklin Templeton. The 10 largest ESG Consideration funds by assets under management are shown on the chart below.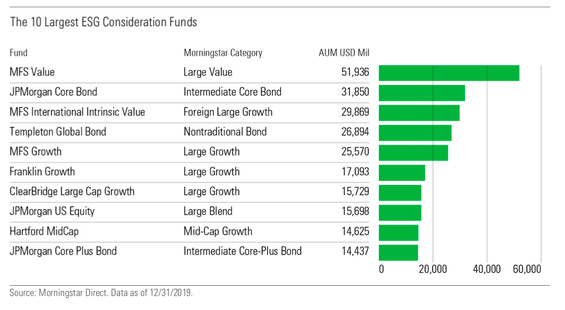 2. ESG Focus Funds
ESG Focus funds exhibit much higher levels of commitment to sustainable investing than ESG Consideration funds do, so it makes sense that there are fewer of them. However, ESG Focus funds still account for the largest portion of sustainable funds, with 195 of 303 funds falling into this category as of the end of 2019 (including 21 that were launched over the course of the year).
ESG Focus funds may be active or passive, concentrated or broadly diversified, tilted toward sustainability leaders or focused on weeding out laggards. They also tend to support ESG-related shareholder resolutions as well as engage with the companies they own about ESG risks and sustainable finance practices. The 10 largest funds in this area by AUM are shown on the chart below.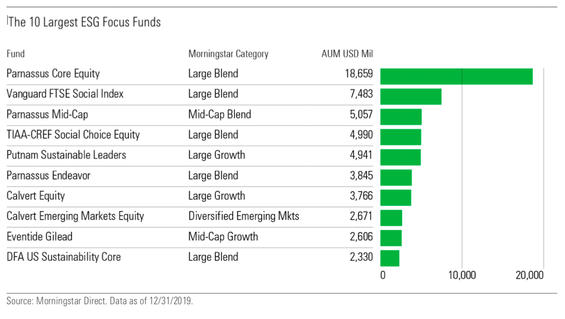 3. Impact/Thematic Funds
Six funds launched in this space in 2019, bringing the number of Impact/Thematic funds to 67 by the end of the year.
As these funds aim to deliver sustainable impact in addition to financial returns, they may go about this practice by investing, for instance, in bonds whose proceeds go toward projects that build sustainable infrastructure or in companies whose products help reduce greenhouse gas emissions.
Impact/Thematic funds may have a specific focus, such as low carbon/fossil free, gender equity, or green bonds. They also measure and report on their impact to investors alongside financial returns. The 10 largest funds in this area by AUM are shown on the chart below.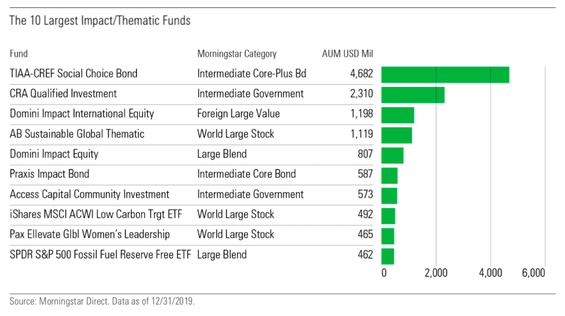 4. Sustainable Sector Funds
Three funds launched in the category this year, bringing the total number of Sustainable Sector funds in play to 41 at the end of 2019. This accounts for just 14% of the sustainable funds universe.
The companies that Sustainable Sector funds seek can be found across a variety of sectors, as they cover a range of industries relevant to a green economy. The 10 largest funds in this area by AUM are shown on the chart below.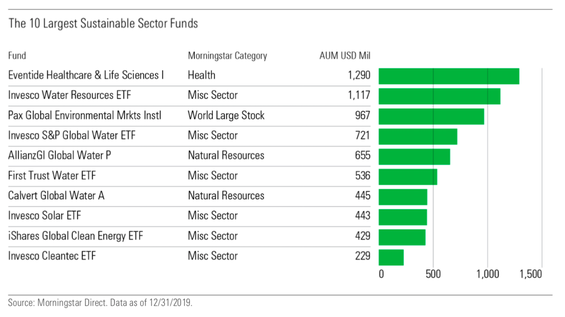 What to Know About Different Types of Sustainable Investing Funds
As financial professionals seek to construct portfolios with particular goals and frameworks, it's valuable to understand these different sustainable investing funds and how they manage particular ESG factors.
The different definitions can help financial professionals navigate the sustainable investing market, the specific focuses of its funds, and their commitment to long-term shareholder value.