The U.S. exchange-traded-fund industry has ballooned to $4 trillion in assets, and three firms are dominating the market: BlackRock's iShares holds the largest ETF market share with 39%, Vanguard is second with 25%, and State Street is third with 16%.
The market share for these three firms has significantly changed from even a decade ago, when iShares had 49% market share, State Street 26%, and Vanguard less than 10%.
The dynamic has been shaped by their respective ETF lineups, the quality of their offerings, and their distribution access to advisors—but perhaps, most of all, by falling fees.
Below is a snapshot of the three firms' U.S.-domiciled ETF offerings. Vanguard's ETFs are consistently at the cheaper end of the spectrum, and many are drawing significant flows, while it's a mixed picture for both iShares and State Street.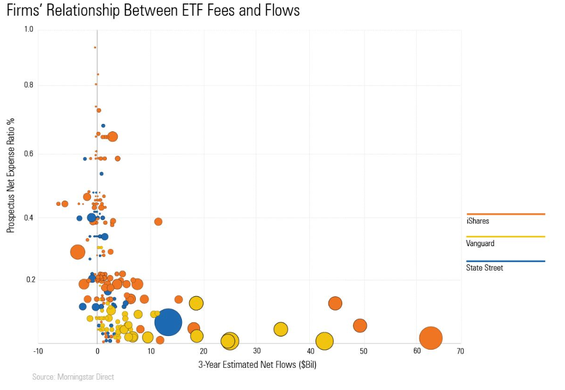 The landscape of ETF market share over the years
State Street's prominence today traces back to its first-mover status: The SPDR S&P 500 ETF ( SPY), launched in 1993, was the first-ever ETF. In 1998, the firm claimed 90% of the market.
But in 2000, iShares' introduction of 40 ETFs began to change the landscape of the market. The chart below shows that by 2006, iShares claimed nearly 60% of the market to State Street's 27%—but Vanguard was coming on fast in the rearview mirror.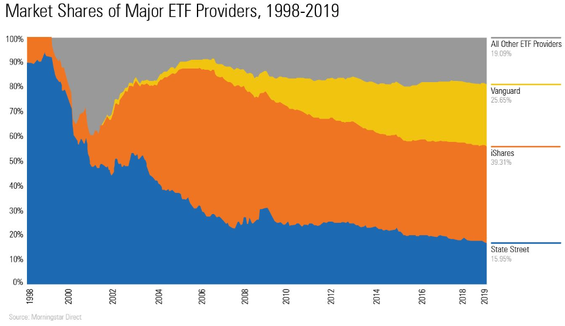 Vanguard started offering ETFs in 2001, which, as the chart shows, led the firm to begin stealing market share from both iShares and State Street. This was accomplished by bringing in money from advisors who had been shut out from accessing Vanguard's open-end index funds by the firm's refusal to pay other distributors for shelf space.
Additional product launches from iShares and State Street helped them stay competitive:
iShares launched its Core series in 2012, aimed at providing broad-based ETFs that can form the foundation of a portfolio.

State Street launched its Portfolio Series of ETFs in 2017, which lowered fees on some ETFs and rolled out new portfolio building-block offerings.
A breakdown of flows across ETF providers
Throughout the firms, iShares and Vanguard have experienced steady growth in U.S. ETF flows. State Street's trajectory, meanwhile, has been more volatile, often moving in sync with the U.S. stock market.
Take, for instance, 2015—a bumpy year for the stock market—when the S&P 500 returned only 1.5%. The chart below shows how State Street posted a calendar-year organic growth rate of negative 5.3%, while Vanguard had a 17.9% growth. In 2016, when the S&P rose 12.0%, State Street's growth rate jumped to 12.4%, while Vanguard cruised along at a 19.5% rate.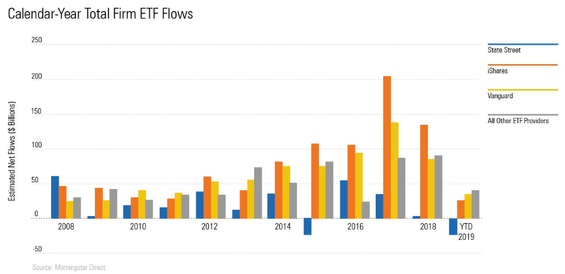 Additionally, the following chart compares the monthly flows of the three firms' S&P 500 ETFs against the monthly return on the S&P 500. Because State Street is large and heavily traded, it's attractive for short holding periods and generates a large amount of money rushing in and out the door. This means State Street's flows vary widely depending on the market.
Conversely, the flows of the other two firms' comparable products, Vanguard S&P 500 ETF ( VOO) and iShares Core S&P 500 ETF ( IVV), have been relatively constant.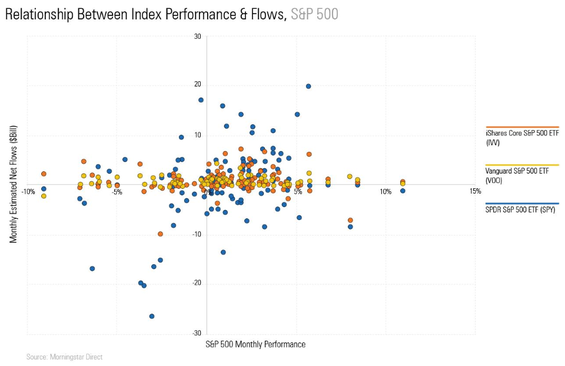 How the fee battle impacts ETF market share
Fees have been a key driver of ETF performance, as with the fund industry overall. Vanguard's low-cost profile has particularly forced a fee war for market share.
The chart below demonstrates the dynamic among the three firms' S&P 500 funds. The substantial decrease in iShares' prospectus net-expense ratio in 2016 reflects a fee cut on its core offering, enacted to stay competitive with Vanguard. State Street, meanwhile, has maintained a 9-basis-point fee on SPY for more than a decade.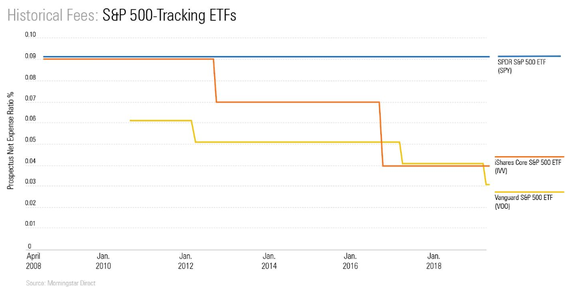 As shown on the chart below, every year since iShares cut fees, it has outpaced Vanguard in calendar-year flows for their respective ETFs. SPY's performance has been less predictable.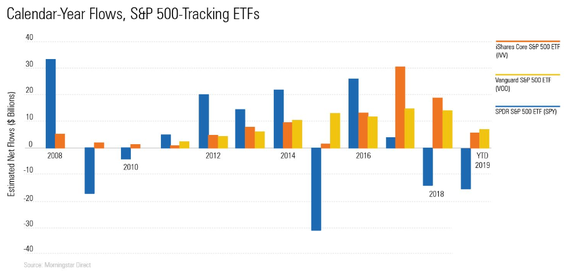 The Exchange-Traded Funds Topic Library makes it easy to access Morningstar's research and commentary on individual strategies, industry trends, performance, fund structure, and asset allocation. Get a free trial of Morningstar Cloud to access more of the latest investment themes. All articles are available to current Morningstar Cloud subscribers.