Many mutual fund and exchange-traded fund investors had much less use for what most of Wall Street was selling in 2018. Most had little interest in anything that wasn't passive ( continuing a long-term trend), core-oriented, and/or low-risk. As a result, money continues to gravitate to passive leaders, Vanguard and iShares, as the rest of the industry downsizes and consolidates. (See the layoffs recently announced by BlackRock, BNY Mellon, and JPMorgan Asset Management.) In part because of the growth of target-date funds and other portfolio-based solutions, many investors are more cost-conscious and less performance-driven than in the past. These are no doubt positive shifts for most investors, but they leave less of a role for Wall Street.
Worst year for long-term fund flows since 2008
In 2018, long-term funds (that is, excluding money market funds and funds of funds) collected $157 billion in inflows, less than half the $350 billion average for 2008-17. It was also the lowest calendar-year total since 2008, falling just below 2016's $166 billion. It was also a massive retreat from 2017's $686 billion in inflows. Meanwhile, money market funds had their best year since 2008. In 2018, they collected nearly $162 billion versus $594 billion in 2008, and their 5.7% 2018 organic growth rate beat all of the long-term categories.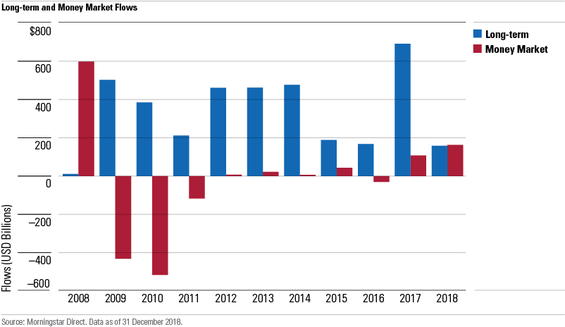 Passive funds continue to grow at their active counterparts' expense
Passively managed funds continued to dominate active funds. In 2018, investors pulled a massive $301 billion from active funds, just shy of 2016's $320 billion. (That said, active ETFs continue to grow in popularity and had their strongest year yet with $27.8 billion in inflows.) Conversely, passive funds collected an even more impressive $458 billion, though this lagged 2017's record $663 billion. At year-end, actively managed funds had overall market share of 61.2% versus 38.8% for passive vehicles. Entering 2018, active funds had market share of 63.2% versus 36.8% for passive funds.
Active U.S. equity funds suffered the most with $174 billion in outflows, equal to 4.1% of beginning assets. Meanwhile, passive U.S. equity funds had inflows of nearly $207 billion, accounting for all active U.S. equity outflows and then some. Active U.S. equity funds finished 2018 with 51.3% market share versus 48.7% for their passive counterparts. For perspective, the two groups started the year with market share of 53.9% and 46.1%, respectively. If present trends continue, passive U.S. equity funds will likely catch active funds a few months into 2019.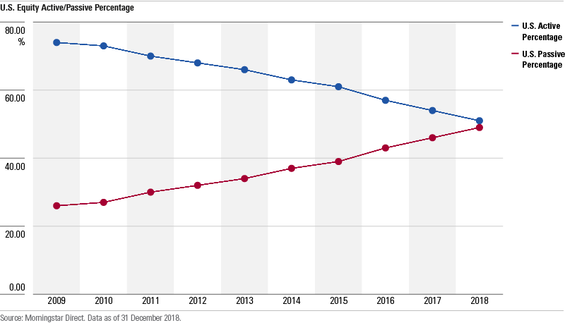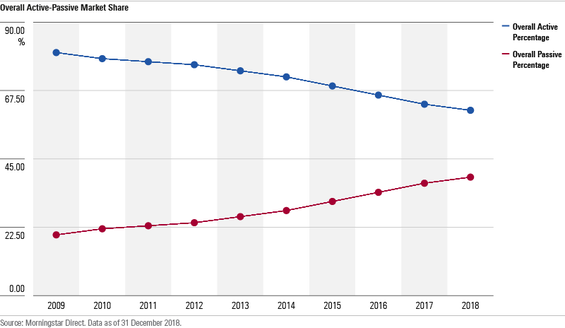 Vanguard, iShares, and everyone else
Vanguard and BlackRock's iShares are the main beneficiaries of the move to passive vehicles, and they continue to dominate fund flows. In 2018, Vanguard collected $161 billion to iShares' $136 billion for a combined $297 billion. Keep in mind that long-term flows for the entire industry were just $157 billion. Thus, the rest of the mutual fund/ETF industry collectively endured net outflows in 2018. Vanguard's market share grew a percentage point to 24.8% while iShares' grew to 7.9% from 7.4%. While iShares flows trailed Vanguard for the year, it is catching up thanks in part to aggressive fee cuts. In the fourth quarter, its $63 billion in inflows were more than double Vanguard's $31 billion.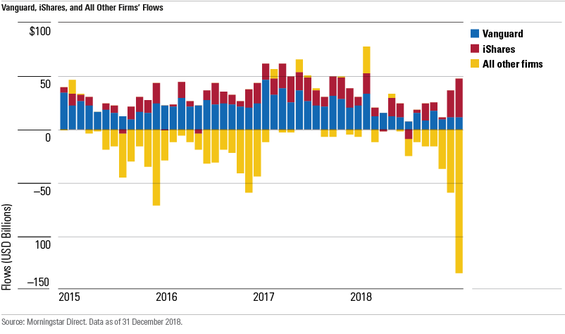 Bond investors seek safety
Taxable-bond funds collected the greatest inflows of the major category groups in 2018, $126 billion. But this trailed the $388 billion received in 2017 by a wide margin and the $194 billion absorbed in 2016. As interest rates increased, taxable-bond funds lost assets to money market funds. In 2018's fourth quarter alone, taxable-bond funds lost $63 billion to outflows while money market funds collected $159 billion, nearly equaling their haul for the year.
Taxable-bond funds paid a price as investors fled credit-oriented vehicles in particular, many of which are actively managed. Investors continued to cut credit risk and seek shelter among high-quality, short-duration vehicles, many of which are passively managed. With junk-bond credit spreads widening and high-yield bond funds losing an average 4.3% in 2018's fourth quarter, investors voted with their feet. High-yield bond funds had by far the greatest outflows among taxable-bond funds in 2018 with a record $40.6 billion. Credit-oriented multisector-bond, corporate-bond, and bank-loan funds followed with outflows of $11.0 billion, $5.6 billion, and $2.1 billion, respectively.
Meanwhile, bearing in mind the strong inflows for money market funds, short-term bond funds fared well. The Ultrashort Bond Morningstar Category was the top in the Taxable Bond category group in 2018 with $87.4 billion in inflows and a 57.1% organic growth rate; iShares Short Treasury Bond led the category with $12.7 billion in 2018 inflows. Short government funds came in third among taxable-bond funds with $18.0 billion in flows, the most in at least 10 years.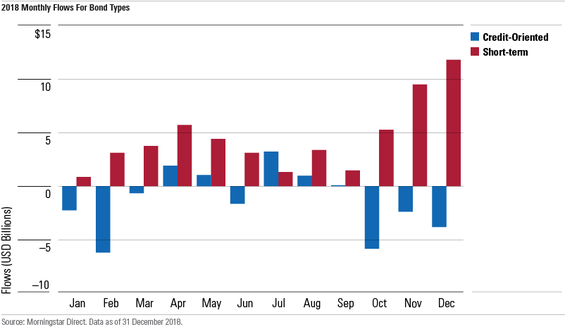 Fund flows show rebalancing, not performance chasing
It became clear in 2018 how fund flows appear to be driven far less by performance chasing and far more by rebalancing. This shows in the flows for international equity funds in 2018. International equity funds took in nearly $88 billion, nearly triple the $32 billion claimed by U.S. equity funds. This occurred despite generally worse returns, as the S&P 500 finished down 4.4% (with reinvested dividends) versus a 13.8% drop for the MSCI EAFE Index.
If anything, international equity funds enjoyed stronger flows than their U.S. counterparts in 2018 because of the worse performance of foreign markets, as it forced target-date funds and other types of managed portfolios to allocate more money to international equity funds. This is certainly a big shift from the days of retail investors chasing the latest hot fund.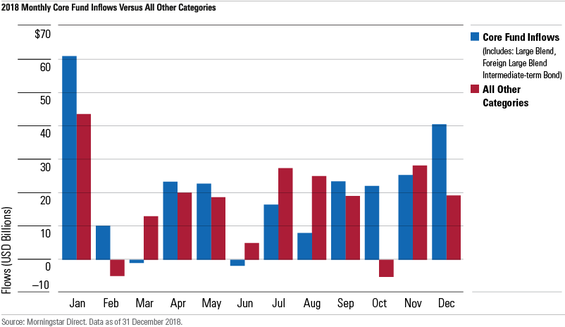 Please see below for important disclosure.