Morningstar Commodities and Energy
Power enterprise analysis with quality market data and automation tools.
One secure product for all your commodity data needs.
The heart of our product is Marketplace, an API-based, centralized, and SOC1-compliant data warehouse. Marketplace uses private feeds to keep your proprietary data discrete from market data, so you can access both in one place without compromising security.
Outsourced data management.
Work with us to set up tailored, automated solutions for your manual tasks. We maintain vendor relationships, develop personalized feeds, and convert market commodity data to your preferred formats so you can focus on analysis.
The standard for trustworthiness and transparency.
Marketplace uses a myriad of quality checks to deliver vendor data you can trust. With our vetted commodity data and transparent pricing model, you can be confident in the value of our products.
Explore Data Management Tools to Enhance Your Firm
Streamline your workflow and analysis with Morningstar
®

Data for Commodities.
Aggregate market and proprietary data for customizable visualizations, calculations, and analysis.
Integrate market and proprietary data into your downstream systems automatically.
Automate complex calculations and apply your own formulas to market data.
Illustrate historical, real-time, and proprietary data with visualization tools on our customizable, web-based dashboard.
Morningstar Energy Research
Substantiate your data analysis with our insights on the latest trends in the oil, power, and gas industries.
Data Vendors Accessible Through Marketplace
Expertise in the commodities and energy space relies on staying on top of market activity and changing vendor requirements. Build your risk, valuation, and reconciliation analyses on insight gleaned from over 220 of the top data vendors in the industry.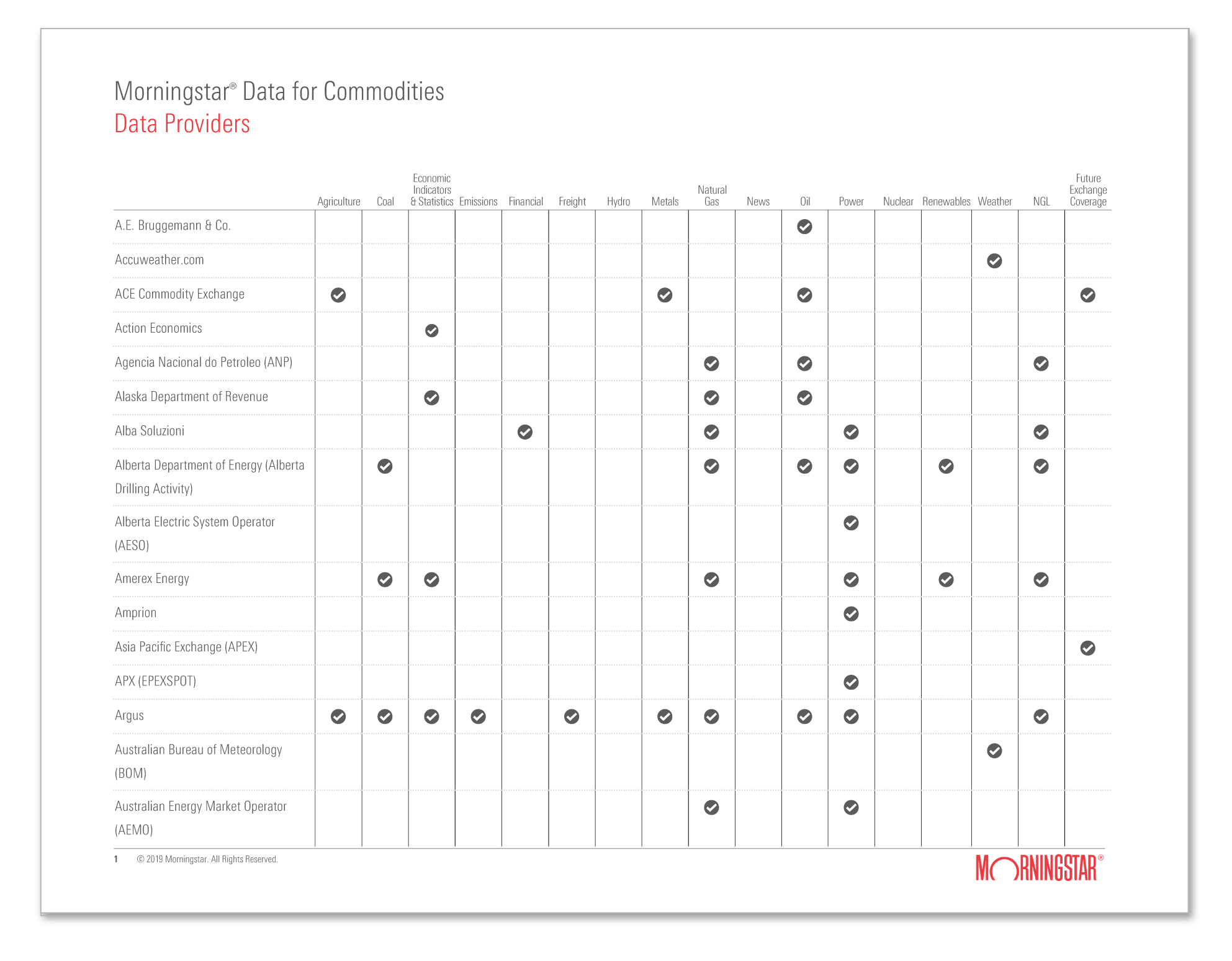 Ready to See for Yourself?
Transform your business with our centralized data warehouse and automation tools.