This article was originally published on schwab.com by Jeffrey Kleintop.
Signs suggest that China's authorities are preparing to reopen and end the zero-COVID policies that have held back the economy for the past three years. In reaction, the MSCI China Index is up 24% thus far in November, compared to just 2% for the S&P 500 Index. This surge in Chinese stocks has propelled outperformance of emerging markets. Yet, the potential reopening poses upside risk to inflation just as central banks appear to be stepping down their rate hikes.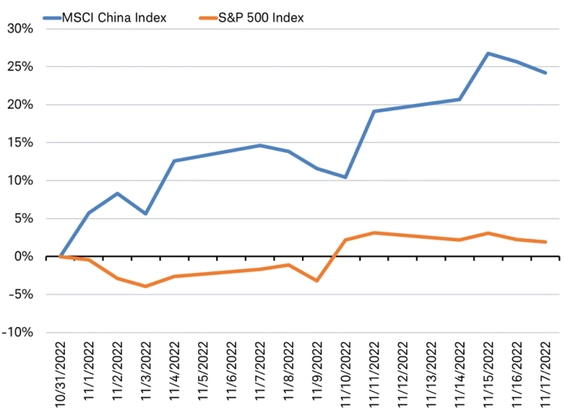 Source: Charles Schwab, Bloomberg data as of 11/17/2022.
Past performance is no guarantee of future results.
Zero-COVID drag
China had more success containing COVID-19 compared with the U.S. and other countries, according to the WHO, mainly attributable to China's commitment to its "zero-COVID" policy. This included stringent lockdowns remaining in place until essentially no new COVID cases were identified in local communities. This approach had a sizable economic cost. This year that was evidenced by the strict lockdown in Shanghai from April to June. Cities accounting for 50% of China's economy are still subject to some form of social distancing and mobility restrictions in November.
Measuring the drag on China's economy is difficult, but amid multiple waves of COVID outbreaks and restrictions this year, retail consumer spending fell -0.5% from a year ago in October 2022 compared with pre-pandemic growth of 7% in 2019 and a 10-year average growth rate of 12%. Interestingly, for the first time in the event's 14-year history, online giant Alibaba decided not to disclose sales results for Singles' Day on November 11, the world's biggest shopping day. There may have been a number of reasons for this, but it may have been because the expected numbers wouldn't be great and might bring even more focus on the zero-COVID measures holding back China's economy. Weak consumer spending alone may have contributed to a potential drag of 4-5% on China's GDP for 2022. The consensus of economists tracked by Bloomberg forecast China's GDP growth to be 3.3% this year compared with 8.1% last year.
Singles' Day Mystery: 2022?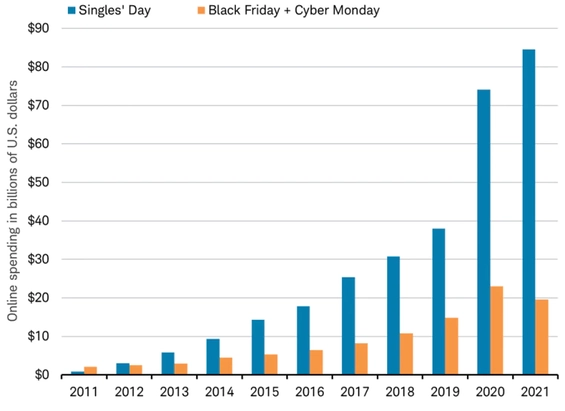 Source: Charles Schwab, Adobe/Comscore and Alibaba data as of 11/17/2022.
Reopening signs
But now, encouraging signs related to reopening have emerged after the Party Congress meeting in late October which is held once every five years.
The toolbox of vaccines and treatments is expanding including the rollout of an inhalable vaccine, approval of BioNTech/Pfizer vaccine for foreign residents in China, and the mass Chinese production of Paxlovid, an anti-viral pill. Using foreign-made vaccines and treatments could be a game changer in China which previously only used those that were domestically developed.
The Aviation Bureau has increased the number of international flights over the next five months and authorities have relaxed quarantine requirements for inbound travelers.
A maskless President Xi Jinping signaled an evolution in COVID protocol at the G20 meeting of world leaders in Bali, Indonesia last week, his most high-profile foreign trip since the pandemic began. He attended events without a mask and shook hands with world leaders, marking a contrast to just two months ago on his trip to Central Asia where he minimized maskless activities and avoided handshakes and big gatherings.
Several high-profile multi-national events were announced, such as the Formula 1 Grand Prix in Shanghai for April 16.
On November 11, the government unveiled 20 measures to make current COVID rules less onerous. They include limiting contact tracing to direct contacts and no longer tracing second-degree contacts, narrowing "risky" regions to individual buildings rather than entire neighborhoods and dissuading "arbitrary" and "indefinite" lockdowns.
These signs suggest that the authorities are preparing to reopen, end the zero-COVID policy, and change the government's lockdown reaction to COVID outbreaks as long as the healthcare system is not overwhelmed. That said, we think it is unlikely China will suddenly and materially step away from its zero-COVID protocols before the end of winter—when respiratory infections typically rise. Already COVID cases are climbing, according to China's National Health Commission. China is currently experiencing the biggest wave of cases since April. Additionally, the geographic spread of the virus is the widest it has ever been, with 203 cities reporting outbreaks as of November 13.
COVID cases on the rise again in China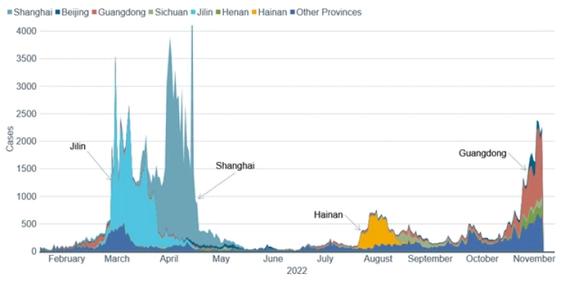 Source: Charles Schwab, National Health Commission of the Peoples Republic of China, Macrobond data as of 11/20/2022.
China may be sending mixed messages by announcing 20 measures to relax COVID rules, while at the same time making it clear they weren't ending zero-COVID policies just yet. The message from China's Standing Committee seemed to reinforce this stance, to "unswervingly adhere" to zero-COVID policy. We believe the measures indicate movement below the surface to eventually reopen, but that four preconditions are likely necessary for China to end zero-COVID policies: change messaging, ramp up vaccinations, improve treatment, and optimize restrictions.
Change messaging. The government has proclaimed zero-COVID as a superior policy to other countries, which has saved many lives in China. Evolving public opinion to one that COVID is not severe for most vaccinated and boosted people will take time. The dual-purpose messaging must reduce fear of bad health outcomes but must also encourage the elderly to be protected via vaccinations. This messaging challenge can be seen in Shijiazhuang (a city of 11 million people less than 200 miles from Beijing) where some families withheld children from school and avoided public spaces and subways out of fear of catching the virus after the government announcement that the city no longer required negative COVID tests to use public transportation and shopping centers. The city has since recommended all residents stay home amid a spike in cases.
Ramp up vaccinations. If China extends the availability of either a domestic or foreign-made mRNA vaccine to all citizens, it may help reduce transmission and severe cases. Yet, distrust of vaccines is a hurdle to getting the elderly vaccinated at a higher rate, a key to keep from overwhelming the hospital system.
Improve treatment. Before exiting zero-COVID, China likely needs the ability to treat the inevitable increase in cases associated with reopening. Constructing sufficient medical resources could happen quickly, but adequate staffing of hospitals and ICUs may be more difficult. China's number of ICU beds per capita is one-tenth the level of that in the United States, according to the Critical Care Medicine Journal. Investments in medical infrastructure will require a major increase in spending by local governments that may be already burdened by the property downturn and spending on containment and testing.
Optimize restrictions. A shift to "optimizing" COVID rules emphasized by the 20 new measures are vague in their timing. Narrowing "risky" regions to individual buildings rather than entire neighborhoods and dissuading "arbitrary" and "indefinite" lockdowns seems straightforward. Yet, the transition to this approach is challenged by the fact that vaccinations and treatment preconditions have not yet been met. Near term, local governments may be more likely to emphasize controlling the spread of the virus rather than loosening restrictions. Alternatively, they may risk an uncontrollable outbreak that results in a months-long lockdown. Optimizing the restrictions is a moving target, dependent upon the effectiveness of other preconditions. We will be watching signs that restrictions are being effectively eased as a key measure of progress toward reopening.
China may not make a flashy announcement that an exit is happening, and it may not happen all at once. Assuming sufficient progress on these preconditions, China could start to reopen in the second quarter of next year—after the Lunar New Year peak travel rush and next March's Two Sessions when the reshuffling of government officials takes place.
Reflation risk
China's reopening may be like most other countries' reopening experiences, with economic growth accelerating (especially household consumption) and inflation picking up. Any reopening beginning in March or April is likely to be gradual but could still lead to a surge in pent up spending in the world's second largest economy; 1.4 billion consumers could lead to a rebound in global inflation for both commodities and goods. It may come at just the point that central banks were pausing their rate hikes (see Central Banks Stepping Down for our thoughts on the end of rate hikes).
Rebound ready in retail?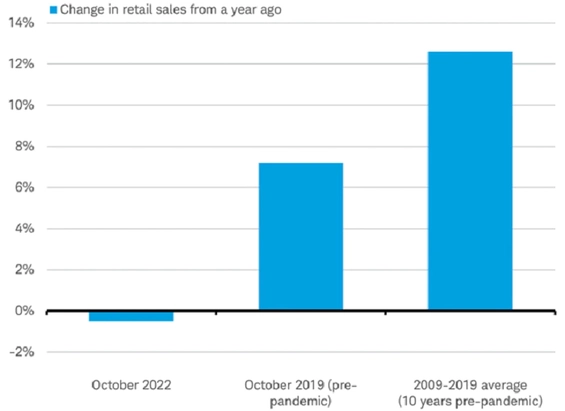 Source: Charles Schwab, National Bureau of Statistics for China, Bloomberg data as of 11/17/2022.
A surge in demand from reopening may not be balanced by a similar surge in supply. While China's authorities allowed demand to slump, they went to great lengths to prevent disruption to production and supply chains.
Of course, there could be other scenarios:
The eventual reopening could be much slower. China's weaker public health infrastructure and the lagging effectiveness of China's legacy domestically produced vaccines raise risks compared to Japan, South Korea, and Taiwan that saw relatively low COVID fatalities post-reopening.
A more rapid reopening could take place. Amid increasing hostility among some Chinese citizens to zero-COVID policies, China could move more rapidly this winter with abrupt termination of zero-Covid policies. This could be disruptive for the economy and markets, making it challenging to see if consumption would improve or be further curtailed by residents fearful of either being infected or by haphazard reversals of easing resulting in new lockdowns.
As China moves toward reopening, stocks seem to be welcoming the likely boost to global economic growth but may begin to worry over the potential need to extend rate hikes. We will be watching these signs carefully and the balance between reopening excitement and inflation worries in the stock market.
Michelle Gibley, CFA®, Director of International Research, and Heather O'Leary, Senior Global Investment Research Analyst, contributed to this report.