Public equity markets are the best-lit playing field in investing and afford investors of all sizes equal access to vital information. Conversely, because there are few disclosure requirements for private companies, many private-market investors lack sufficient information to make informed investment decisions. Despite their lack of transparency, private markets are growing at a phenomenal pace. Over the last decade, more money has been raised in private markets than in public markets with no sign of a change in the trend. Companies are staying private longer thanks to plentiful funding, and private-company holdings are increasingly making inroads into individual investor portfolios—through retirement plans and ownership of "crossover" mutual funds.
One mark of rapid private-market growth is the burgeoning number of unicorns, or venture capital-backed companies valued at $1 billion or more. Today's unicorns are tomorrow's industry stalwarts—just look at Google, Facebook, or Airbnb. Unicorns are already important players, but their growth, evolution, and impact are more difficult to track than their public counterparts. Investors deserve to see a full picture of the market, including the complexion and behavior of private companies, some of which will eventually go public.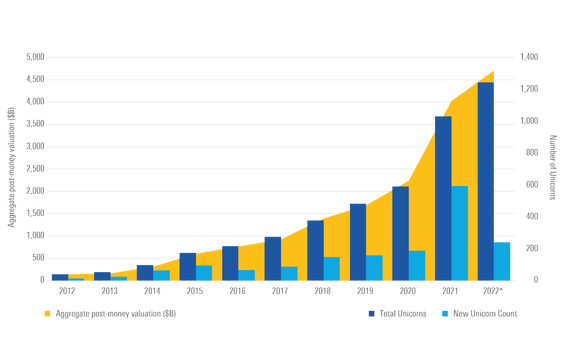 Launching today, the Morningstar PitchBook Global Unicorn Indexes are designed to provide insight into the late-stage venture capital market. We seek to paint a more complete picture of today's investment landscape and to provide a better sense of where markets may be headed. The indexes bring clarity to what can be a difficult market to monitor. Private companies are not required to file periodic reports or make disclosures about their business operations. And they're difficult to value because they're not actively traded; a typical lag between different funding rounds is 18 months. This lack of regular valuations creates the potential for illusions in private-company returns when compared with public counterparts.
Morningstar Indexes, in partnership with PitchBook, a leading provider of private-market data and research and an independent subsidiary of Morningstar, is launching a family of indexes that solves for these issues. To create indexes that better reflect current market conditions, we use a statistical model to estimate more frequent valuations for private companies. The model leverages valuations from the company's last funding round along with private-market and public market comparable data to determine constituent pricing.
The index series comprises 11 global, regional, and single-country indexes to provide investors with data on how unicorns are performing around the globe. Broad indexes that include all eligible constituents sit alongside fixed-count indexes like the Morningstar PitchBook Global US Unicorn 100 that represent the performance of the largest companies in the region.
We think these indexes will be valuable tools to monitor and evaluate an essential, but under-documented segment of investment markets. We know some unicorns produce fabulous returns, but how well do they perform in aggregate? What are their risks and long-term return profile? Does unicorn performance come at the expense of later public market performance? Our new indexes will offer valuable data points to these essential discussions and empower better investment decisions.