This article was originally published on americancentury.com by Rob Brookby, Nalin Yogasundram, and Mark Krutty.
Key Takeaways
The metaverse is an immersive, next-generation version of the internet that could play a significant role in our lives.
As an emerging investment theme, the metaverse has attracted interest from investors and companies seeking to be part of the next internet era.
While companies involved in the metaverse have the potential to grow, they also face significant challenges and risks investors should understand.
Do you or someone you know play Roblox or Fortnite? If so, you're already a part of the burgeoning metaverse, a virtual space that blends the physical and digital worlds.
Metaverse combines "meta," meaning transcendent or beyond, and "verse" from "universe." Author Neal Stephenson coined the term in his 1992 science fiction novel, "Snow Crash." Stephenson's characters are avatars—virtual representations of themselves that transcend reality.
Many of us use avatars to play games, attend virtual concerts and communicate with others. In the future, Roblox, Fortnite and other gateways to the metaverse will support core elements of our lives: education, work, finances, social life, virtual travel, shopping and entertainment.
The Metaverse as an Emerging Investment Theme
Though the metaverse is early in its growth trajectory, many investors believe it could be the next big investment theme. Scott Nover of business news site Quartz describes it as "an immersive next-generation version of the internet, likely rendered by virtual or augmented reality technology."1
Several companies have already seized on the metaverse and seek to shape it. After changing its name to Meta Platforms to demonstrate its focus on the theme, Facebook is a high-profile example. Another is Nvidia, whose Omniverse offers a 3D simulation and a design platform that allows collaboration in a shared virtual world. Lesser-known entrants include companies like Unity Software, which offers tools that enable users to design the real-time, 3-D environments essential to the metaverse.
Roblox Has an Early Foothold
Even though Facebook (Meta Platforms) is a more prominent company, we think Roblox has staked out a unique position in the metaverse. Since opening its doors in 2004, it has developed innovative digital infrastructure that could make it a pure-play company on the metaverse investment theme. The firm went public in early 2021 with a remarkable $38 billion market cap.
Roblox is one of the world's most frequented virtual ecosystems. It connects the physical and digital worlds with experiences, environments and assets that enable people to interact, participate in enjoyable challenges and create personal virtual worlds.
The company has experienced rapid account growth during the last five years, as shown in Figure 1. More recently, activity on the platform spiked when the pandemic's social-distancing restrictions limited the in-person interactions young people could have with their friends and classmates. So far, adoption has proven sticky, with users remaining engaged after opening accounts.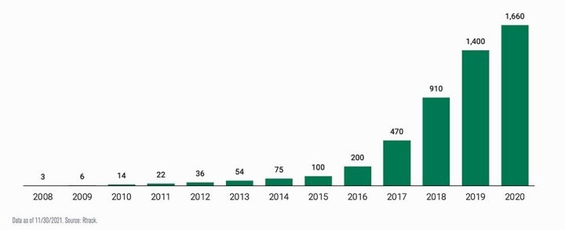 We Believe Roblox Has an Effective Business Model
Roblox users can choose from millions of experiences or develop and monetize experiences for other users. Though it's free to participate, the company monetizes the experiences by selling "Robux" currency users can spend anywhere on the platform. It also offers a monthly subscription, allowing subscribers access to exclusive items and a monthly Robux allowance.
The platform also is well-positioned to help brands reach valuable audiences. For example, Nike created a community called Nikeland, which it describes as "a new place on Roblox for Nike fans to connect, create, share experiences and compete." The company also partnered with the platform to celebrate a new sneaker, the AirMax720.
Chipotle is another example. The restaurant chain brought its virtual brand to Roblox, including the popular, Halloween-themed "boorito." The promotion enabled fans to access Chipotle's Roblox restaurant for a chance to get an offer code for a free burrito.
Roblox Faces Challenges to Rule the Metaverse
While Roblox has powerful growth catalysts, it also faces significant hurdles.
Demographics. The company must build lasting bonds with users. Many start on the platform as preteens, and the challenge is maintaining their loyalty as they become young adults with new interests.
Safety. Keeping users safe is critical to parents and investors.
International growth. Adding users around the globe is vital to the company's success. Strict regulations in countries like China could stunt its growth and that of its competitors.
Competition. Roblox has plenty of competitors, so the risk of new entrants taking market share is constant.
Thematic Investing Involves Significant Risk
It's exciting to participate in emerging, compelling technology that can reshape our world. Of course, nothing is guaranteed. Some investment themes will come to fruition while others will not. Likewise, some participating companies will succeed while others will fail.
To avoid investing in a fad, thematic investors should look to strategies that rely on rigorous research and a long-term perspective. Investors also should avoid concentration risk by diversifying their portfolios across and within the major asset classes.2 However, keep in mind that diversification does not assure a profit, nor does it protect against loss of principal.
Scott Nover, "The meaning of the 'metaverse,' and all the terms you need to understand it," Quartz, November 20, 2021.

Concentration risk is the risk of heightened losses that could occur from having a large portion of an investor's holdings in a particular investment, asset class or market segment relative to their overall portfolio.