If there is one lesson the coronavirus pandemic has taught investors, it's that a large-scale, unpredicted event has the power to bring the global economy to a sudden standstill. A parallel can be drawn with climate change, now widely recognised as a similarly large systemic risk to the global economy. And we can't yet fully imagine or predict how it may affect investment portfolios.
Climate change has become one of the biggest sustainability issues for investment portfolios. Investors have become increasingly aware that greater climate variability and more frequent extreme weather events could have considerable effects on businesses. They are also recognizing that the world must transition from a fossil-fuel-based economy to a low-carbon economy sooner rather than later. The transition creates tangible risks and opportunities for investors.
We explored the rise of climate-aware funds and these funds' carbon exposure in our paper, "Investing in Times of Climate Change." Here are some of our findings.
The Growth of Choices for Climate-Aware Investors
Asset managers in Europe have responded to this new dynamic by launching a flurry of climate-aware funds and tweaking existing strategies to incorporate climate-change objectives. As of March 31, 2020, there were 405 open-end funds and exchange-traded funds with a climate-related investment objective in Europe, representing close to EUR 60 billion of assets. The chart below shows the launches of these funds over the past decade.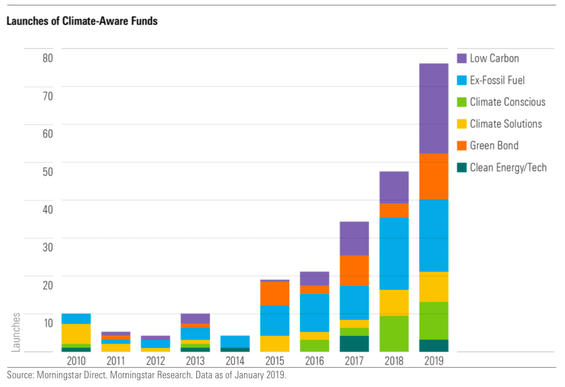 The six subgroups of climate-aware funds shown on this chart represent a broad range of approaches that aim to meet varying investor needs and preferences, but they mainly focus on decarbonizing an investment (reducing carbon risk) or on promoting the transition to a low-carbon economy by investing in climate solutions.
Climate-Aware Funds With Access to Lower Carbon Intensity
We used Morningstar's suite of carbon metrics to test the claims made by climate-aware funds and found that they largely deliver on their promises. For example, the chart below shows that relative to their benchmark, virtually all Low Carbon funds do provide access to companies with lower carbon intensity (as defined by Total Emissions / Revenue).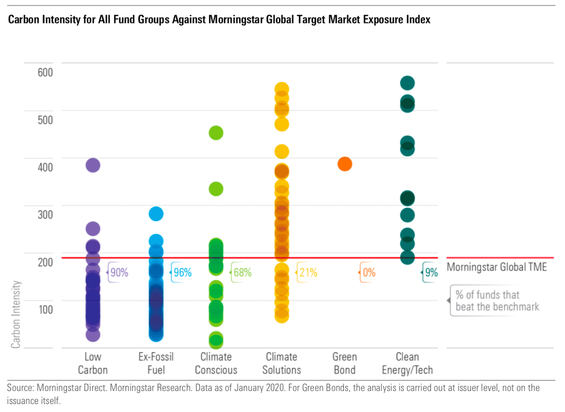 Additionally, our analysis showed:
We found that 149 of the 206 funds with carbon-intensity numbers offer an improvement on the Morningstar Global Total Market Exposure Index, which served as the market benchmark. The majority of these low-carbon-intensity funds fall into the Low Carbon, Ex-Fossil Fuel, and Climate Conscious categories. The only low-carbon funds that have higher carbon intensity than the benchmark line are emerging-markets funds, which is not surprising given that emerging-markets portfolios typically hold more carbon-intensive companies than developed-markets portfolios.
Compared with their own benchmark, all but one Low Carbon fund achieves reduced carbon intensity, with most achieving a carbon-intensity reduction between 20% and 40%.
Climate-Aware Funds Exposed to Higher Carbon Intensity
By contrast, most Climate Solutions and Clean Energy/Tech funds exhibit higher carbon-intensity scores than the Morningstar Global Target Market Exposure Index.
This reflects that alongside pure-plays in the renewable energy sector like wind turbine manufacturers Siemens Gamesa Renewable Energy (GCTAF) and Vestas Wind Systems (VWSYF), which score low on carbon intensity, many Climate Solutions and Clean Energy/Tech portfolios invest in companies that operate carbon-intensive businesses. For example, NextEra Energy (NEE), a leading wind farm and solar builder and operator in the United States, exhibits high-carbon intensity because more than half of its generating capacity still relies on fossil fuels. And Denmark's Orsted (DOGEF), the world's largest renewable energy company, carries much less carbon intensity but still scores higher than the benchmark, as its energy mix consists of 19% coal and 17% gas. These companies' variations in carbon intensity reflect different stages of their transition journey.
The chart below shows Climate Solutions and Clean Energy/Tech funds' relatively high scores on carbon solutions, with Climate Conscious funds following closely behind.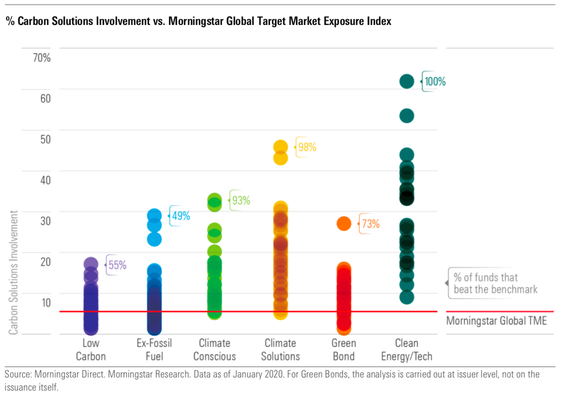 Looking more closely at the relationship between carbon-solutions exposure and carbon risk, we found that many Carbon Solutions and Clean Energy/Tech funds carry some of the highest carbon risk—indicating that the companies they hold are fairly vulnerable to the low-carbon transition.
This high-risk score, shown on the chart below, is again because these funds hold transitioning companies that continue to operate in carbon-intensive sectors while developing solutions that help them reduce their carbon emissions. Common holdings such as Iberdrola (IBDSF), Enel (ESOCF), and Orsted have medium-carbon risk scores, while First Solar (FSLR), Siemens Gamesa Renewable Energy, and Vestas Wind Systems have low-carbon risk scores.
How Climate-Aware Investors Can Effectively Select Funds
When choosing products, climate-aware investors should carefully consider their green preferences and carbon-risk appetite.
Our analysis shows that Ex-Fossil Fuel or Low Carbon funds provide the greatest shield from carbon risk but will offer little in the way of carbon solutions. Conversely, Clean Energy/Tech funds offer high exposure to carbon solutions as expected but also currently hold the greatest carbon risk in the bunch.
This, however, shouldn't put investors off. The rationale for investing in carbon solutions is not only to profit from their potential success, but also to help provide the capital and support to bring those solutions into being. And if these companies are able to do so successfully, they will have sidestepped their carbon risk in the process.