Investing in Times of Climate Change - A Global View
Climate change poses the biggest long-term threat of our time, impacting not only how we live but also how we invest. Some investments will be disadvantaged in the transition to net zero, while others will find themselves vulnerable to physical risks from extreme events caused by climate change.
This report provides an updated view of the rapidly evolving global landscape of climate funds, representing a wide and growing range of strategies that aim to meet varying investor objectives and preferences, from decarbonizing a portfolio to investing in climate solutions.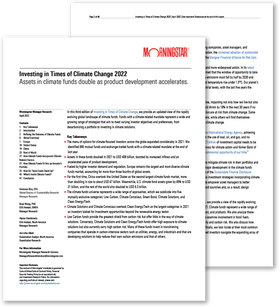 An overview of the universe of climate-aware funds
An analysis of how climate-aware funds fit into an investor's portfolio.
A review of what is inside climate-aware funds.