In the decade following the global financial crisis, investor protection-focused market regulation has generally continued to provide robust fund markets that help individuals invest safely for their future. Since the previous study in 2017, international policymakers have been shifting their focus onto environmental, social, and governance factors.
This trend was one of the top findings from the Regulation and Taxation chapter of the latest Global Investor Experience Study, which evaluates the environment for mutual fund investors in markets around the world. As shown below, the highest overall scores went to the Netherlands, Sweden, and the United Kingdom, while the lowest went to Australia, Canada, China, Japan, New Zealand, and the United States. None of the markets we evaluated yielded a bottom grade, as they all achieve basic protections for investors.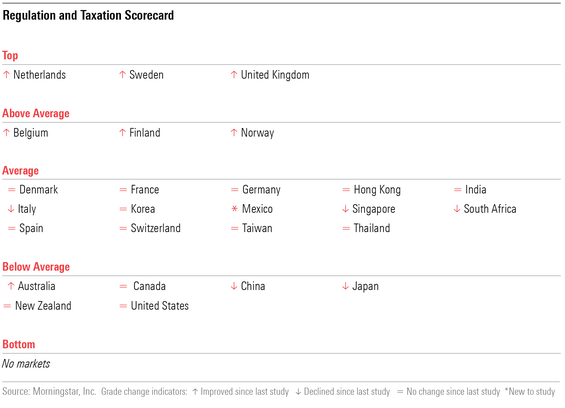 Rankings as of April 2020.
In this report, we explored the policy and taxation characteristics that encourage individuals to invest. We also evaluated how regulations around fund operations, distribution, and governance, as well as the overarching regulatory structure, provide a broad range of fair and efficient products that enable them to do so safely. 
While the study was conducted prior to the coronavirus pandemic, it is especially relevant now given the current situation. A strong regulatory environment can give investors one less thing to worry about and provide them with confidence that the financial markets are continuing to protect their interests. Since the outbreak, we've seen governments and regulators take a wide variety of different approaches to help maintain market stability, assist businesses, and protect investors.
Below, we highlight some of our key conclusions. As with the previous editions of the Global Investor Experience Study, this research is intended to encourage a dialogue about global best practices for mutual funds from the investor's perspective.
5 Takeaways From Morningstar's Latest Global Investor Experience Study: Regulation and Taxation
The global mutual fund market has strong regulation that generally protects investors. While most markets had already imposed regulatory limits on how much mutual funds can invest in illiquid securities, the gating of the high-profile LF Woodford Equity Income Fund has placed extra scrutiny on the extent to which unquoted investments should be used in open-end funds.
Markets vary in their policies to incentivize people to invest. Some markets levy no taxes on investment income or gains and others provide tax wrappers that enable people to invest meaningful amounts that can grow tax-free. The most progressive markets, such as Australia and the U.K., have begun automatically enrolling workers in defined-contribution retirement systems.
Market regulation of fund operations and distribution is an area where we see wide variation in practices. Issues that have important, real-world implications for ordinary investors include: the allowance of soft commissions, the transparency of third-party research costs incurred by funds, and paying distribution costs out of fund assets. We made some enhancements to the methodology to place a stronger emphasis on these issues, which contributed to changes in some market ranks. Notably, China, Hong Kong, Japan, and Singapore's rankings declined from the last edition of the study.
MiFID II raised standards across all EU member countries. This major piece of market regulation increased the baseline level and consistency of disclosures and reduced conflicts of interest, which contributed to at least an average grade for all markets subject to it.
Market regulation and taxation are significant, but not the only dominant factors shaping global investor experiences. Other factors, such as competition and economies of scale, also play a large part. For instance, even though Australia and the United States scored relatively low in terms of regulation and taxation, they were top performers in the Fees and Expenses chapter of the Global Investor Experience Study, alongside the Netherlands.
Regulation and Taxation is the second of four chapters in the sixth edition of the Global Investor Experience Study. The remaining chapters will be produced later in 2020.