Between social media, financial news outlets, stock apps, and word of mouth, today's investors have no lack of information. In this environment, financial advisors can no longer view access to data or investment options as the biggest service they provide, as investors are now craving holistic advice that will effectively help them achieve their personal goals.
To meet this demand, financial advisors need to increasingly think of themselves not only as investment advisors, but also as financial coaches.
What it means to practice financial advisor coaching
A sports coach's goals extend far beyond just winning a game. They must understand the players, what makes them tick, and how they can work together, and then use these insights to map out a durable, winning strategy for the team.
The same is true for financial coaches. While investment advisors do the important work of helping clients identify topnotch investments, financial coaches also prioritize understanding the client's lifestyle, family, income situation—and the larger goals that mean the most to their lives. Only after they've had conversations focused on identifying and prioritizing client goals can they move clients from planning to action with a goals-focused investment plan.
With the extent of readily financial advice available in the world, coaching is one way that advisors can demonstrate added value.
Beyond providing access to data, coaches help clients make sense of it; beyond assigning clients to a suitable investment model, coaches show how an investment plan will concretely help them reach their specific goals; and beyond commenting on the latest investment news, coaches proactively keep clients on track by letting them know how decisions and trade-offs today could affect their situation in the future.
Key questions to start financial advisor coaching
Coaches can start understanding a client's goals by asking open-ended questions. When first introduced to a client, a coach should assess:
Are you working with an individual, a couple, a family, the kids? If you're working with a couple, what is their dynamic like? Can you detect differences in how they think and talk about money?
How connected are they to their family, community, and environment? How do they spend their time, and with whom do they spend it?
More than making money, why do clients want to build wealth? What are they hoping to achieve? What's important to them?
But while open-ended questions can be illuminating, coaches may ultimately need more tools to uncover what truly matters most to a client.
For instance, behavioral science shows that people aren't always able to identify their own goals when they're asked. Though many investors are attracted to the increasingly popular approach of goals-based planning and the personalization it can provide, its success hinges on investors knowing their investment goals and being able to communicate them clearly.
Our research has found that using a master list of financial goals can help you have more effective conversations with clients and reveal which goals mean the most. In fact, 26% of participants changed their top goal after seeing a master list, and about 73% of participants substituted at least one of their top three goals with goals from the master list.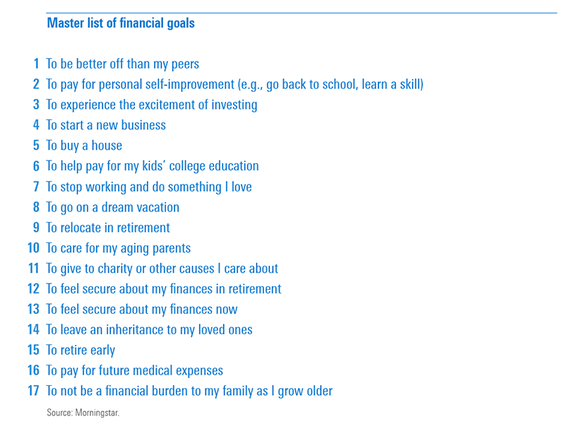 Helping investors make good choices and develop plans that make long-term objectives possible should be one of a financial planner's key missions, and this master list can help reveal and clarify the goals they really want.
Financial coaches collaborate on goal-planning
Though financial coaching is valuable in creating relevant goals for your clients, there is still the matter of prioritization, savings, funding, timing, and risk trade-offs. Financial coaches don't do that for their clients; they do it with their clients so they can understand and buy into the plan.
This is where collaborative technologies that offer goal visualizations can be helpful. For example, Morningstar's Goal Bridge tool empowers advisors to discuss the goals that mean the most to their clients and turn those goals into actionable investment plans, all in the span of a single conversation. Clients can work with their advisor to change their inputs and immediately see the impact of different behaviors on their future state.
Goal Bridge facilitates an informed approach to prioritizing goals and allows advisors to educate clients about making trade-offs to attain overall financial wellness.
A new way to think about financial success
Clients don't necessarily evaluate success by how much their portfolio beat the industry benchmark; they evaluate it by the progress they're making toward the goals that mean the most to them.
In that sense, clients are looking for more than money management; they are looking for money advice. With a thoughtful, client-centric, goals-based approach to financial coaching, advisors can build trust, strengthen relationships, and develop their business.
Jason Stipp is a product manager for the Morningstar product group.