As the 2019 U.S. proxy season approaches, there's a new wave of interest in proxy voting and stewardship. The groundswell has been building for some time: investor embrace of environmental, social, and governance (ESG) factors in the investment process; the accelerating concentration of voting power as investments shift to passives; and the urgency of a market response to impending climate crisis in the absence of government action all overlay stronger proxy voting rights afforded by the 2010 Dodd-Frank law on financial reforms in the U.S. and European leadership in stewardship and engagement.
The proxy process gives effect to shareholder democracy
Over the 10-week period leading up to June 30, more than 75% of all U.S. company annual shareholder meetings will take place, and shareholders will vote on 30,000-35,000 ballot items. Shareholders will be weighing in on board competence and senior executive incentive structures via the standard director election and say-on-pay ballot items put forward by management. About 300 ballots will contain one or more resolutions put forward by shareholders.
How shareholder resolutions are addressing ESG issues
Minority shareholders' right to table issues to be voted on the corporate ballot at annual shareholders' meetings has been a distinctive feature of shareholder democracy in the U.S. for almost 80 years. Shareholder resolutions offer insightful perspectives on ESG risks. They often serve as an overture to corporate boards and management to engage in a dialogue on issues that should be on their radar. Collectively, shareholder resolutions serve to expand investors' and corporate management's understanding of emerging risks and how to address them.
In the 2018 proxy calendar, running from July 2017 to the end of June 2018, 488 shareholder resolutions appeared in the annual meeting proxy materials of U.S. public companies. Of these, 187 addressed social and environmental issues. Ten of these were supported by a majority of shareholders.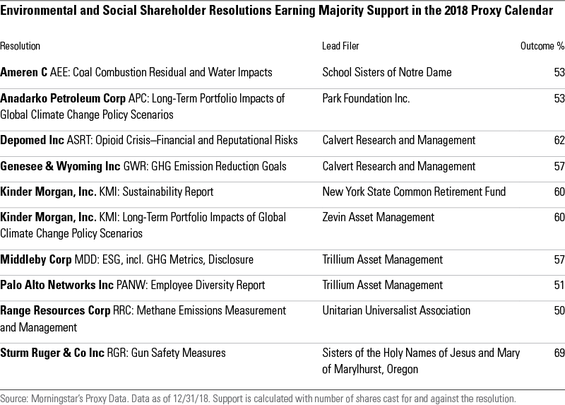 The early trickle of proxies and vote results that precede the height of proxy season provide a barometer of things to come. Of the 14 E&S shareholder resolutions that have already come to vote since the start of the 2019 proxy calendar, four have earned majority support. These point to gun safety and the opioid crisis as key reputational risk issues for weapons retailers and pharmaceutical companies. As oil and gas and power company meetings approach, we can expect majority votes on resolutions asking for disclosure of greenhouse gas emission targets in line with the Taskforce on Climate-Related Financial Disclosures recommendations. Gender will be another important issue addressed in resolutions that request workplace diversity and pay-equity disclosures.

For an increasingly powerful investor segment, investments must be aligned with a broader vision of prosperity that goes beyond profit. These investors are keenly aware of how their investments affect human and natural systems and want to know how their fiduciaries are stewarding their investments: What are funds and their managers doing to influence governance practices across portfolios and markets, to protect against environmental and social risks, and to promote sustainable business practices?
Morningstar's new primer on the proxy process situates shareholder resolution-filing and investor stewardship within the broader shareholder democracy movement, explaining how the exercise of shareholder franchise gives investors a voice in the governance of companies in which they own shares. This franchise is effectively extended to fund investors when they invest in funds that vote actively on sustainability. Furthermore, proxy voting underpins other strategies, like engagement, that shareholders use to influence governance practices and protect the long-term value of their portfolios.