One common assumption is that sustainability is a luxury that only rich countries can afford.
This is based on the idea that when Western economies were at their earlier stages of development and more reliant on manufacturing, they polluted, exploited their workers, and greased the wheels with unethical business practices. (Think Dickensian Britain or the American robber barons.) Now that they're rich and comfortable, they've grown a conscience. Meanwhile, poorer countries are too busy clawing their way up the development curve to consider the environment, society, and good governance. Don't hold the emerging world to Western standards.
While there's some truth in that view, it's an oversimplification to declare emerging markets a wasteland for sustainability and the rich world a bastion.
The latest edition of the Morningstar Sustainability Atlas shows that ESG leadership can come from surprising corners of the globe. This semiannual report examines the sustainability profiles of 46 equity markets based on the constituents of their Morningstar country indexes.
The company-level scores are sourced from Sustainalytics, which also powers the Morningstar Sustainability Rating™ for funds. Investors can use the report to identify countries with the greatest environmental, social, and governance, or ESG, investment opportunities and risks.
Emerging markets get high marks in ESG scores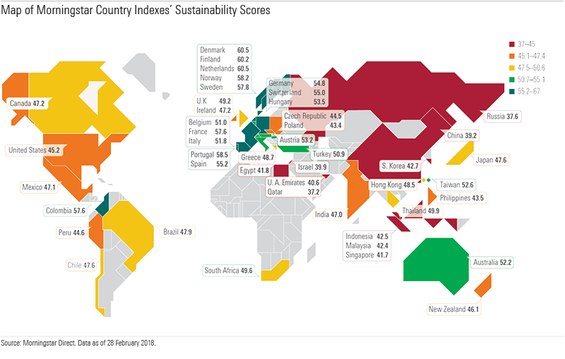 Looking at the map above, the Nordics and Eurozone are clear sustainability leaders. China, Russia, and certain Asian markets have the most work to do.
But among the global leaders in sustainability is Colombia. Colombia? The small Latin American market is a top performer, thanks to companies like Bancolombia, Ecopetrol, and Grupo Sura—which are ESG leaders within their global industry peer groups.
Colombia is not the only emerging market meeting a high standard of ESG. Hungary, Taiwan, and Turkey also perform well. South Africa, Brazil, and Chile score higher than Japan, Canada, and the U.S. India outperforms Singapore and New Zealand.
A Focus on Thermal Coal
This latest Morningstar Sustainability Atlas also leverages new sustainability data points. The Morningstar Portfolio Product Involvement data, found in Morningstar Direct℠ and Morningstar Direct℠ Cloud, allow investors to screen for and analyze exposure to a range of products, services, and business activities—such as animal testing, controversial weapons, GMOs, tobacco, or thermal coal—a carbon-intensive energy source. This edition of the Sustainability Atlas focuses on thermal coal.
Seeing the benefits of sustainability
An increasing number of companies and investors around the world see sustainability as good business practice. Using less energy doesn't just benefit the earth, it also saves money. Treating workers well is a way to attract and retain talent. An independent board of directors provides an important check on corporate managers, leading to better decision-making.
Across the world, sustainability is increasingly about value—not just values.\
This research was conducted using Morningstar Direct. If you're a user, you have access . If not, take a free trial .
Dan Lefkovitz is a strategist for Morningstar's Indexes group.