We've just published the latest edition of the Morningstar Sustainability Atlas, a report examining the sustainability profiles of 46 global equity markets. Investors can use the report to identify countries with the greatest environmental, social, and governance, or ESG, investment opportunities and risks.
The methodology is bottom-up. That means that equity markets are evaluated on the basis of the companies making up their Morningstar indexes. The company-level scores are sourced from Sustainalytics, which also powers the Morningstar Sustainability Rating TM for funds. As with funds, an index's sustainability score is a weighted average of company-level scores. It comprises separate scores for environmental, social, and governance pillars as well as an ESG-related Portfolio Controversy Score.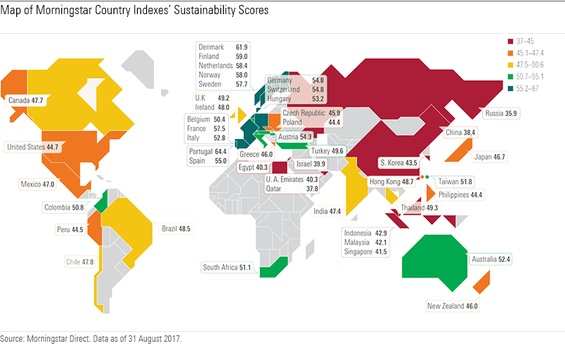 Key takeaways on global ESG investing trends
European markets continue to set the global standard for sustainability. The Nordics and eurozone garner the highest scores.

France is the top-scoring global market on environmental criteria.

Denmark leads on the social pillar.

The Netherlands leads the world when it comes to governance.

Australia is the highest-scoring, non-European market for sustainability, which is driven by its big banks.

Sustainability is not just a developed-markets phenomenon. Several emerging markets score above the global median, including Colombia, South Africa, Hungary, and Taiwan.

Taiwan is the leading Asian market for sustainability.

The U.S. scores below all developed markets except Singapore. ESG-related controversies involving index constituents are partly to blame, but scores are low across ESG pillars.

Japan's score is dragged down by governance issues.

China scores poorly across environmental, social, and governance criteria.
Dan Lefkovitz is a strategist for Morningstar's Indexes group.