Meet All Client-Focused Reforms in One Place
Power regulatory compliance efforts with ease so advisors can focus on what matters most—their clients.
All-in-One Solution, All for Your Clients
With Morningstar, you can build durable compliance processes that keep advisors moving at full speed.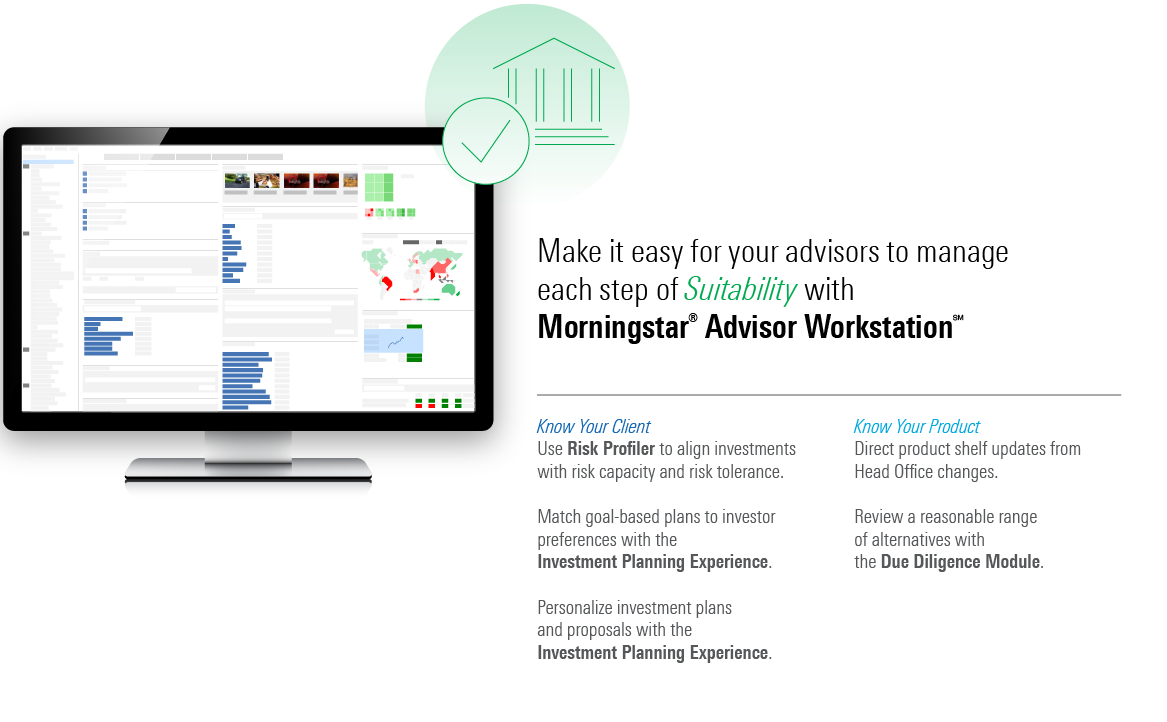 Evaluate and Document Suitability
Cross compliance off your to-do list with a built-in audit trail of reasonable alternatives. Advisors can filter investments from your product shelf based on your firm's criteria, all in one platform.
Capture client data for deeper personalization. With proven risk assessments and goal-based plans, you can customize portfolios for each client.
Clear KYP hurdles with tools to assess, approve, and monitor your product shelf. Your head office can easily update and distribute changes to your product shelf.
Skip the complications of multiple logins and incompatible tools with a suite of regulatory solutions.
Unlock Timely Investment Research
Make confident investment decisions with data from 100+ independent analysts around the globe.
Measure Risk Tolerance and Capacity
Score how your clients feel about financial risk. By asking better questions about risk, you can help investors weather volatility and reach their long-term goals.
Capture consistent, central data to trust that your firm is staying ahead of regulatory demands.
Choose A Partner You Can Trust
With over 35 years of expertise, Morningstar can help tailor your firm's approach to investment, research, and due diligence. Our category system sets the industry standard.
Connect to the Way You Work
Embed compliance components into your tools for one convenient workflow.
Scale Compliance for Your Growing Business
Set a firmwide standard for suitability with Morningstar solutions. Advisors can quickly check investments and underlying holdings against your firm's criteria for risk, performance, and fees.
Answering Your CFR Frequently Asked Questions
We look at the regulations, how they will impact firms and advisors, and what's different this time.
The KYC Conundrum: What Do Clients Want?
What Do CFRs Mean for Advisors and Investors?
Five Best Practices for Avoiding Know Your Customer Confusion
How to Win More Business With Good KYC
Ready to See for Yourself?
Discover how Morningstar can help you meet CFR requirements and grow your business.