Morningstar® Plan AdvantageSM is an online platform designed to help your advisors:
Offer fiduciary-approved lineups
Obtain plan provider pricing
Deliver plan-level reports
Document their decisions
Manage their retirement business
Advisors can grow their business while we help you worry less.
Morningstar Plan Advantage offers fiduciary support so that your advisors can maintain and expand their retirement business without increasing their fiduciary risk. Our platform can also give you a view into the plans your advisors manage and alert you if any plans fall out of compliance.
Let us help your advisors better serve their plan sponsor clients.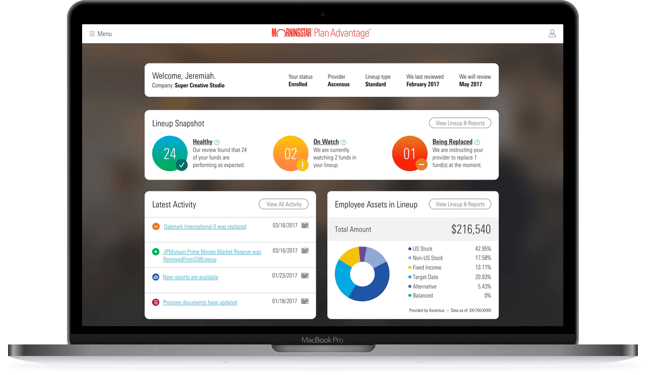 About Morningstar Investment Management LLC
Morningstar, Inc.'s mission is to help investors reach their financial goals. We were founded on the simple idea that when people have good investment information, they make better choices that lead to better outcomes. Our advocacy for the individual investor extends to the workplace market, where the responsibility for investing and saving for retirement now rests with employees and where we're committed to helping those employees achieve their financial goals. The products and services of Morningstar and its affiliates range from advice and managed accounts to custom models, target-date solutions, and fiduciary services. Our workplace business includes advice from Morningstar Investment Management LLC, a registered investment adviser and subsidiary of Morningstar, Inc.
©2020 Morningstar Investment Management LLC. All rights reserved. The Morningstar name and logo are registered marks of Morningstar, Inc. Morningstar® Plan AdvantageSM is offered by Morningstar Investment Management LLC, a registered investment adviser and subsidiary of Morningstar, Inc., and is intended for financial professionals working with, or sponsors of, retirement plans subject to the provisions of the Employee Retirement Income Security Act of 1974, as amended ("ERISA"), unless exempt therefrom, or other state or federal laws governing retirement plans. The investment advice delivered through Morningstar Plan Advantage is provided by Morningstar Investment Management LLC, a registered investment adviser and subsidiary of Morningstar, Inc., or an affiliate. The Morningstar name and logo are registered marks of Morningstar, Inc. Please read our Terms of Use and Privacy Policy.