Going Global: An Evaluation of Retirement Systems Around the World
In a world full of uncertainty, retirement income security has become a critical issue. Increasingly, preparing for retirement has become more complex with more burden placed on the individual investor. Now more than ever, the quality of retirement income schemes around the world are being question on whether they can provide a sufficient retirement for employees.
In our first international look at retirement frameworks, we focus on the features of workplace retirement schemes in eight countries spanning the Americas, Europe, and Asia. We also examine the extent in which workplace retirement schemes help to provide secure and cost-effective investment frameworks for employees to generate retirement income.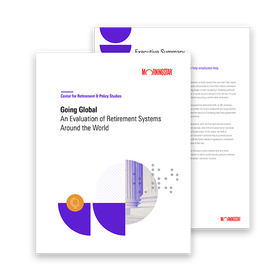 A look at the various retirement savings architectures and how countries harmonize social security, workplace, and personal retirement provisions
An analysis of the different approaches to workplace retirement schemes
An exploration of both best practices and areas for improvement
Take me back to The Center for Retirement & Policy Studies.