We've published new research. Read highlights from our 2019 assessment of HSA providers.
Health savings accounts have become more popular thanks to trends in health benefit plans and the tax advantages they can offer. Assets deposited in HSAs have grown about 10-fold since 2008, reaching $51 billion as of mid-2018, according to Devenir Group LLC. While the majority of HSA assets are in checking accounts, investing accounts are playing catch-up and more recently have been growing at a faster rate.
Transparency remains low for many of the top HSA providers
In our 2018 Health Savings Account Landscape report, we evaluated and ranked 10 of the largest HSA plans available to individuals. We did not assess HSAs available through employers, as fees in those types of plans can vary substantially, based on a number of factors. We gathered the information needed to make our evaluations from plan websites and (when necessary) call centers. This gave us a good look at transparency across the HSA landscape, which remains low. We evaluated the availability of information in four broad areas:
Maintenance fees
Investment fees
Interest rates
Investment lineups
Ideally, HSA providers would disclose all this information on their websites, but most do not. Of the 10 plan websites we surveyed, only four provided all the information we sought. The chart below shows the full results for each HSA provider.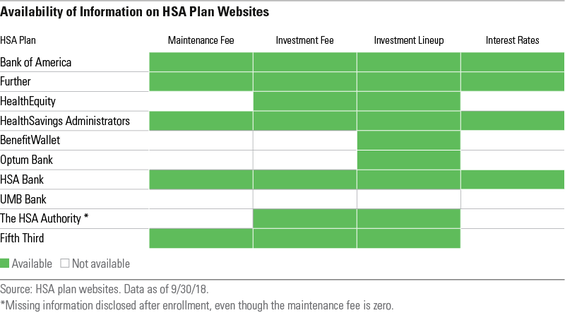 The industry's inconsistent disclosure, along with frequent, significant changes to fees and investment lineups, creates a burden for accountholders looking to select a well-managed plan. We believe there's much room for improvement.
Evaluating the top HSA providers as spending and investment vehicles
We evaluated the plans and assumed two distinct use cases: HSAs as a spending vehicle to cover current medical costs, and HSAs as an investment vehicle to save for future medical expenses. The HSA spending account is typically used by individuals with high healthcare costs who lack the means to pay out of pocket. The HSA investment account appeals to individuals who will pay for medical costs out of pocket and intend to invest their HSA contributions to achieve long-term growth. Investing HSA dollars allows individuals to maximize the unrivaled tax benefits offered by HSAs. Often known as the triple tax advantage, contributions into HSAs are tax-deductible, investment growth and interest are tax-exempt, and withdrawals avoid taxes as long as they're spent on qualified medical expenditures. The tax benefits outweigh what's offered by a 401(k), a traditional IRA, a Roth IRA, or a 529 college savings plan.
5 key takeaways from our 2018 Health Savings Account Landscape report
Overall, while some of the HSA plans we evaluated last year have made improvements to their quality of investments and investment menu designs, there's much room for continued progress. Fees vary significantly across plans, and most require individuals to keep money in the checking account before they can invest.
Here are our key takeaways on where we've seen signs of progress and where there's still room for improvement:
The quality of investments across HSA plans remains strong and has improved since last year. At least 50% of the investment options available in the 10 plans we evaluated boasted Morningstar Analyst Ratings of Gold, Silver, or Bronze.
Investment menu designs have improved, with several plans addressing shortcomings that we identified last year by reducing investment menu overlap or adding core investment options.
No plan currently earns positive marks across the board as either spending or investment vehicles, indicating continued room for improvement.
Fees vary across HSA plans but remain elevated. Across the 10 plans, the average cost for passive funds ranges from roughly 0.30% to 0.75% per year, and the average for active funds from about 0.80% to 1.20%.
Eight of the 10 plans require investors to keep $1,000 or $2,000 in a checking account before they can invest, which can create an opportunity cost.
In our next post in this series on HSAs, we'll take a closer look at our evaluation of the spending vehicles these top HSA providers offer.
To get a behind-the-scenes look at the development of the 2018 Health Savings Account Landscape, watch our webinar with Leo Acheson, Morningstar's associate director of multi-asset and alternative strategies. Watch Now.
Please see below for important disclosure information.