Financial Data Aggregation Tailored for Wealth Tech Startups
Fuel innovation in the investment industry with highly-enriched data from ByAllAccounts.
With the Right Financial Data Aggregation, Anything is Possible
Do you want to push the boundaries, create mind-blowing experiences for your users, or grow your company and get to market faster? If you're building apps or platforms for investment use cases, you'll always be a step behind—unless you have data for this specialized market.
Morningstar ByAllAccounts—the Only Financial Data Aggregator Exclusively Focused on Investment Use Cases
The Fintech Financial Data Aggregator for Investment Use Cases
Financial data aggregation is not a commodity. ByAllAccounts is the only financial data aggregator exclusively focused on the needs of the investor, advisors, and the wealth tech apps that serve them. Unlike other aggregators, we provide high-quality, interoperable data for: performance reporting, portfolio analytics, portfolio rebalancing, financial planning, financial wellness, trade compliance management. Nearly anything you can imagine next.

With our financial data aggregation engine, you can also seamlessly leverage Morningstar's vast data and portfolio insights.
See How Enriched Investment Data Can Help You
Build Innovative Solutions
Easily Unlock Deep Portfolio Insights with Next-Level Enrichment
Our new premium portfolio analytics feature enables you to easily and cost effectively enrich aggregated investment holdings with fund and equity attributes—sourced from Morningstar Licensed Data.
Fund and stock attributes include: regional breakdowns, asset allocations, equity and fixed-income sector exposure, equity and fixed-income style boxes.
Streamline proposal generation, power risk analytics, and simplify rebalancing, financial planning, and other portfolio operations.
Click image to enlarge and view animation
More Opportunities with Morningstar for Wealth Tech
While other companies only offer aggregation, ByAllAccounts gives you access to Morningstar's wealth of insights, connections, and expertise. Streamline your vendor relationships with:
Turnkey compatibility with the investment industry's most robust solutions
Seamless data integration across the entire Morningstar ecosystem
Highly specialized, investment-focused research, expertise, and analysis tools
Make Your Financial Data Aggregation a Competitive Advantage
Source Coverage and Reliability
ByAllAccounts delivers the most comprehensive financial data from more than 15,000 sources—including cash, investments, credit, cryptoassets, loans, and mortgages—for visibility into investors' holdings, transactions, spending habits, and cash flow.

Our long-tail approach includes an industry-leading number of retirement plan providers and 401(k) recordkeeper sources. Seventy percent of our aggregation is sourced from direct connections, including open banking and custodial feeds.
Unparalleled Enrichment for High-Quality Data
Investment data is especially noisy and unstructured. It often includes missing or ambiguous data points. Building on decades of investment experience, we combine proprietary tools to normalize and enrich data. Gain actionable investment insights powered by artificial intelligence, natural language recognition, predictive analytics, and specialized algorithms.
Need connections to new data feeds? Different configurations and rules? The ability to select content and composition of outputted data? Developer tools? You'll get all that—and much more—with ByAllAccounts.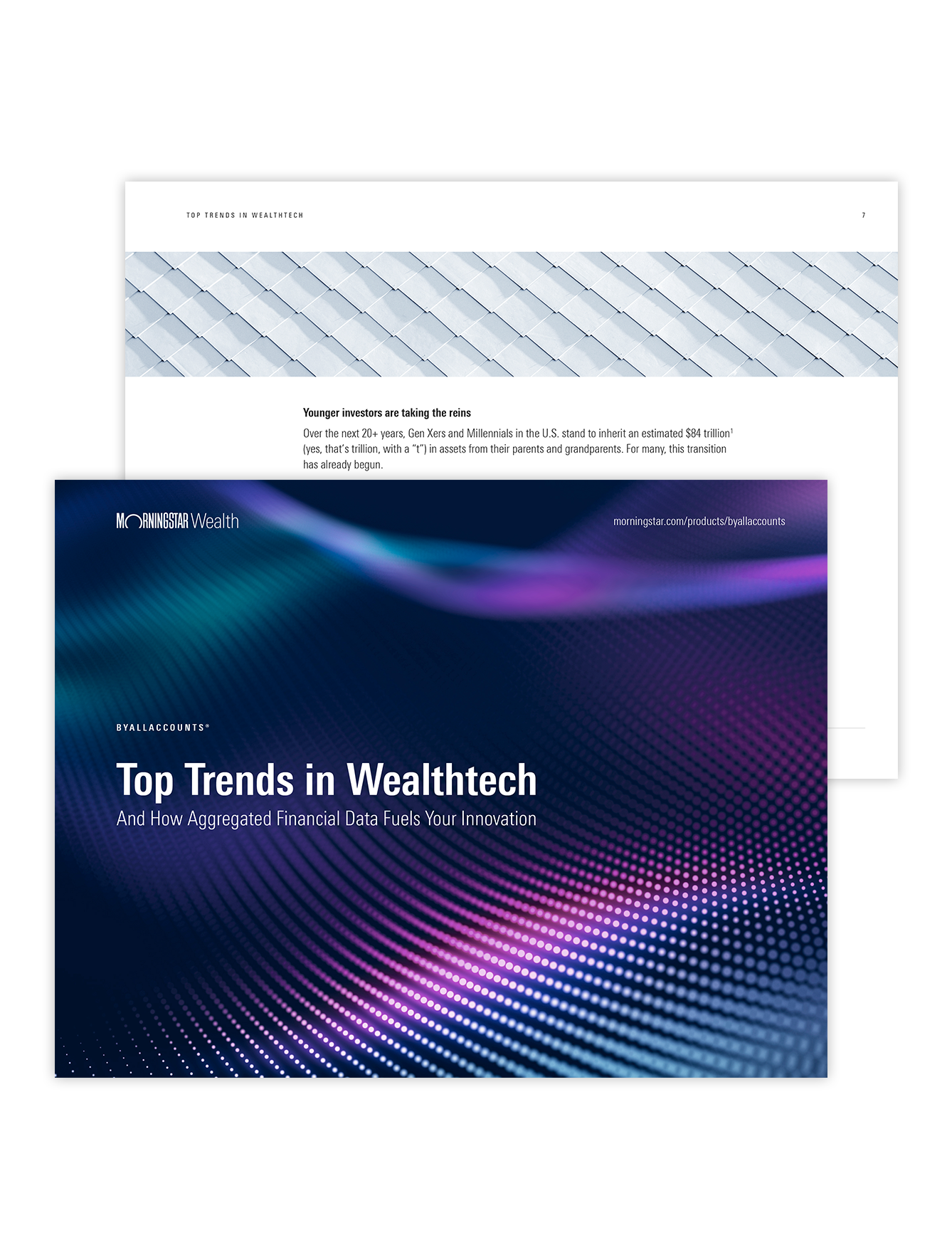 Top Trends in Wealthtech And How Aggregated Financial Data Fuels Your Innovation
Download our ebook to uncover the four trends in wealthtech driving innovation:
Pivot away from basic personal financial management (PFM)
Personalization at scale
Breaking down data silos across applications
Leveraging AI
"Our vision is to empower families with complex wealth and their trusted advisors to make better investment decisions. This requires always having the latest actionable information the way families like to see it."
Chirag Nanavati
Managing Director
Asset Vantage
Ready to See for Yourself?
Transform your business with interactive tools for investors.