Open Banking for Wealth Management
Today's open banking direct data connections can provide reliable and secure access to the critical data necessary to maximize positive client outcomes and provide enhanced back-office efficiencies. U.S. regulators are making some progress toward standardized open banking. However, until investment data is fully incorporated into the regulation, investment-focused data aggregation must make use of other means to complement open banking to provide advisors and investors with the enriched data necessary to ensure high-quality, reliable, and actionable investment insights.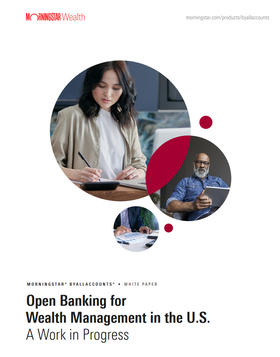 • What is open banking?
• Why open banking and investment data are an imperfect union?
• What makes a good investment data and open banking partner?
• Why is Morningstar ByAllAccounts your essential partner?