Morningstar Target Value and Momentum Indexes
Over the past decade the Morningstar Target Value Indexes and the Morningstar Target Momentum Indexes have established a strong long-term record. The indexes were built to deliver potent exposure to their targeted factors, and they have lived up to expectations. This paper discusses how bold factor tilts and quality portfolio construction make these indexes effective tools for value and momentum investors, and it illustrates how pairing the indexes with traditional core equity allocations in a portfolio can help reduce risk while enabling investors to participate in the upside.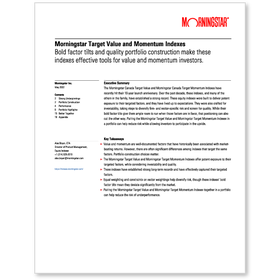 A breakdown of the construction rules underpinning the Morningstar Target Value and Morningstar Target Momentum Indexes.
Detailed performance metrics comparing the indexes to their market cap-weighted parent benchmarks across the following regions: Canada, US, Developed Markets ex-North America, and Emerging Markets.
A demonstration of the potential benefits of using the indexes as satellite allocations in a broadly diversified portfolio.