Stop Guessing: Using Participant Data to Select the Optimal QDIA
Since 2007, the U.S. Department of Labor has provided plan sponsors with safe harbor guidelines when selecting a qualified default investment alternative, or QDIA. To qualify, plan sponsors must follow a prudent selection process that includes the consideration of specific plan demographics and data. This paper presents a framework for using participant data to help determine which type of QDIA may be most appropriate for a plan.
---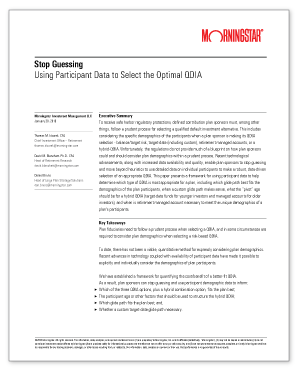 In this paper, you'll learn:
What kind of participant data is available and its influence on asset allocation recommendations

Our quantitative method for considering plan demographics

Our framework for quantifying the cost and possible benefits of a QDIA option
Morningstar Investment Management LLC is a registered investment adviser and subsidiary of Morningstar, Inc. The Morningstar name and logo are registered marks of Morningstar, Inc. Opinions expressed are subject to change without notice. Morningstar Investment Management shall not be responsible for any trading decisions, damages, or other losses resulting from, or related to, the information, data, analyses or opinions or their use. This commentary is for informational purposes only. The information, data, analyses, and opinions presented herein do not constitute investment advice, are provided solely for informational purposes and therefore are not an offer to buy or sell a security. Before making any investment decision, please consider consulting a financial or tax professional regarding your unique situation.