Right on Target?

Plan Sponsors May Not Always Consider Participants' Behavior or Needs When Selecting Target-Date Glide Paths
In 2007, a key part of the Pension Protection Act finalized rules for qualified default investment alternatives (QDIAs), making it easier for plan sponsors to auto-enroll participants in a retirement plan. Since then, we have seen target-date funds (TDFs) rise as the most prevalent investment vehicle in defined-contribution plans. With TDFs dominating retirement plan assets, the Department of Labor (DOL) has issued tips for plan fiduciaries using TDFs, specifically suggesting plan sponsors consider carefully the characteristics of TDFs in relation to their participant population.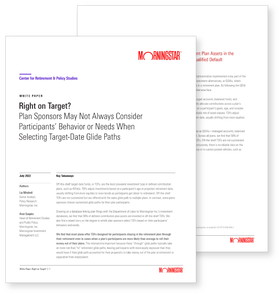 How plan sponsors in different sectors vary in their TDF selection and how those selections align with the DOL's criteria.
Which plan sponsors consider the likelihood of participants staying in a selected TDF "through" retirement.
Our suggestions to the DOL to help align TDF selection with participants' needs more consistently.