Paperwork or Panacea
As PEPs Come of Age, What Can Their Forebearers Tell Us About How They Will Work?
Pooled Employer Plans (PEPs) are a new variety of an existing structure for retirement plans: Multiple-Employer Plans (MEPs). PEPs have the potential to become an important tool for improving our retirement systems' coverage and adequacy, particularly for small employers that lack the resources to provide a single-employer plan. In this paper, we take a retrospective look at the challenges and successes of MEPs to support regulators and industry professionals in making PEPs successful.
---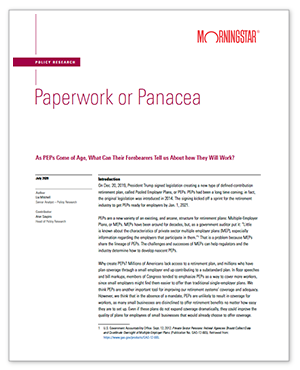 In this report, you will learn:
The key differences and similarities between PEPs and MEPs

How MEP fees compare with traditional single-employer plans and what size PEPs need to grow to in order to achieve competitive fees

Three key policy recommendations to improve the PEP marketplace and ensure they provide a level playing field for smaller employers
Sign up to receive your copy: