Morningstar's latest annual investor returns study has found that the gap between official total returns and those actually experienced by investors across all mutual funds has shrunk to 26 basis points over the 10 years that ended March 2018.
---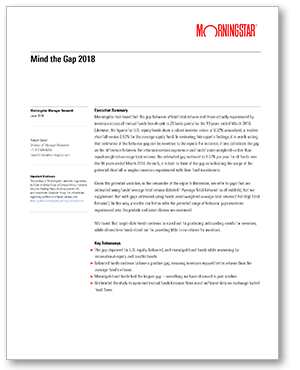 In this report, you will learn:
The gap improved for U.S. equity, balanced, and municipal-bond funds while worsening for international-equity and taxable bonds.

Balanced funds continue to have a positive gap, meaning investors enjoyed better returns than the average fund's returns.

Municipal-bond funds had the largest gap—something we have observed in past studies.