How Managed Accounts Can Help Employees Save and Invest for Retirement
A managed accounts service can help guide employees on how much to save, how to invest their savings, and when to retire, but what impact can it potentially have on retirement outcomes? In this short paper, we summarize the findings from our latest managed accounts research.
---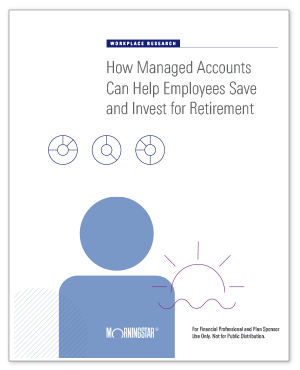 In this report, you will learn:
Download our new research paper and get exclusive access to our latest video:
Morningstar Investment Management LLC is a registered investment adviser and subsidiary of Morningstar, Inc. The Morningstar name and logo are registered marks of Morningstar, Inc. Opinions expressed are subject to change without notice. Morningstar Investment Management shall not be responsible for any trading decisions, damages, or other losses resulting from, or related to, the information, data, analyses or opinions or their use. This commentary is for informational purposes only. The information, data, analyses, and opinions presented herein do not constitute investment advice, are provided solely for informational purposes and therefore are not an offer to buy or sell a security. Before making any investment decision, please consider consulting a financial or tax professional regarding your unique situation.