The Retirement Plan Lifetime Income Strategies Assessment
The retirement landscape in the U.S. has changed significantly over the last decades with fewer retirees relying on pensions for retirement income. Since the passage of the SECURE Act, plan sponsors have started to consider lifetime income strategies more seriously to help meet their participants' changing needs. In this report, we examine strategies used to generate lifetime guaranteed income in retirement plans and compare the projected performance against that of a portfolio-only strategy.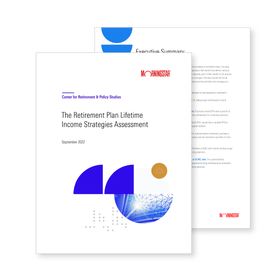 A comparison of five distinct annuity-based strategies and how the Social Security bridge compares against private annuities
Identifying which types of participants would benefit most from incorporating lifetime income strategies into their retirement plans
The impact of health shocks on lifetime income strategies
Take me back to The Center for Retirement & Policy Studies.