Morningstar's Guide to Thematic Funds
This guide is intended to introduce investors to Thematic Funds and Morningstar Direct's new tool that helps sift through and organize global thematic funds in a logical, easy-to-view format.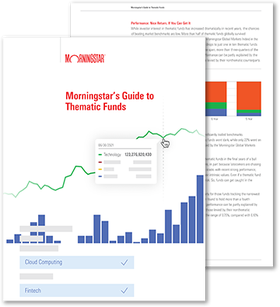 Introduction to Thematic funds
Investigate the upsurge in thematic fund investments and requirements to hold successful investments.
The Evolution of the Global Thematic Funds Landscape
Investor interest in thematic funds has dramatically increased in recent years. Discover thematic fund asset growth and launch patterns.
Historical Performance and Identifying Opportunities
Learn about global thematic fund survival and performance trends, as well as how our new data set can support effective fund evaluation and uncover investment opportunities.