Beyond "Net Zero": Supporting the Transition to a Climate-Resilient Planet
It has become popular for companies to commit to "net zero" carbon emissions as a means of combating climate change. But climate-focused investors shouldn't take these pledges at face value. The Morningstar EU Climate Indexes provide greater carbon transparency.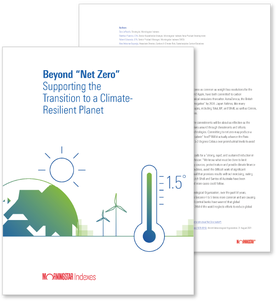 On overview of the EU objectives for climate benchmarks and what it means for indexes to be badged as an EU Climate Transition Benchmark (CTB) or an EU Paris-Aligned Benchmark (PAB).
An explanation of how the Morningstar EU Climate Indexes assess the credibility of corporate "net zero" pledges and enable investors to focus on real climate risk mitigation and climate-related opportunities while channeling investments toward sustainable activities.
Details surrounding Sustainalytics' Carbon Solutions, including scope 1, 2, and 3 emissions data and forward-looking Carbon Risk Ratings, and how they are leveraged to measure each company's climate impact and climate risk. Four case studies are provided.