We've published new research. View our most recent Active vs. Passive Barometer here.
Active U.S. stock funds had a rebound in success rates between June 2018 and June 2019: 48% survived and outperformed their passive peer, and 66% of active growth funds beat the average of their category's passive average.
These findings and more are detailed in the latest Morningstar Active/Passive Barometer, a semiannual report that measures active vs. passive fund performance within their respective Morningstar Categories. The barometer is unique in the way it measures active managers' success relative to the actual net-of-fee performance of passive funds rather than an index, which isn't investable. You can learn more about the methodology of the report in our previous blog post, " Actively vs. Passively Managed Funds Performance" and dive deeper into the report's insights and key takeaways in our o n-demand webinar.
Here, we outline a few key points from the report.

5 takeaways about active funds vs. passive funds from our midyear 2019 report
1. Active funds' success rates increased since this time last year in 11 of the 20 categories we examined. This is shown on the chart below. Altogether, around 44% of active funds beat the passive composite for their category in the 12 months through June 2019.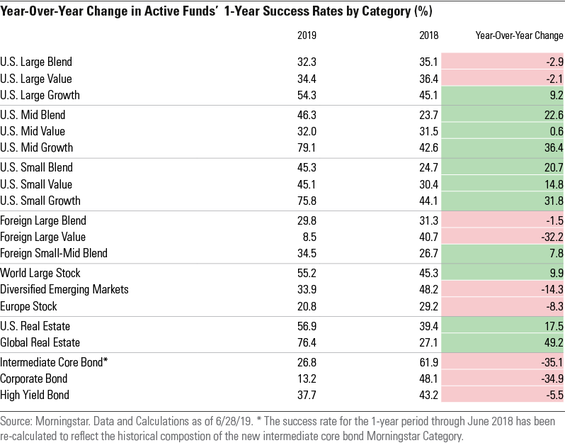 2. Success rates spiked among active U.S. mid- and small-cap blend and growth funds, as shown on the chart below. These funds' larger average market caps relative to many of their indexed peers helped them during a span that was marked by a rout in small caps. During the year through June 29, 2019, the small-cap-centric Russell 2000 Index fell 3.3% while its large-cap complement, the Russell 1000, increased by 10%.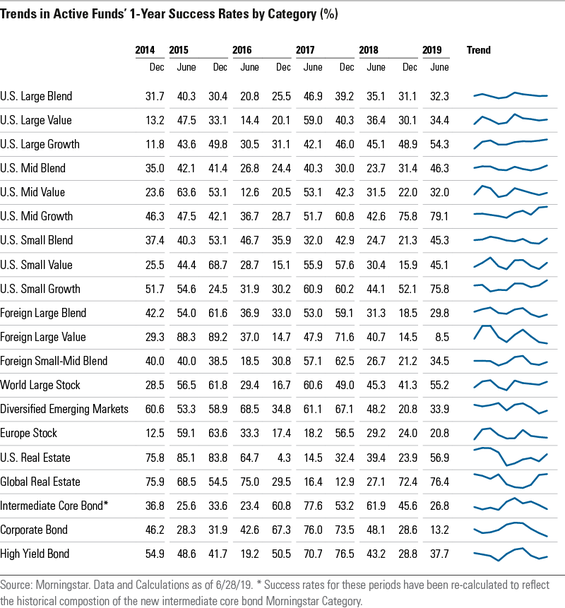 3. In general, actively managed funds have failed to survive and beat their benchmarks, especially over longer time horizons. As shown on the chart below, only 23% of all active funds surpassed the average of their passive rivals over the 10-year period ended June 2019. Long-term success rates were generally higher among foreign-stock funds and bond funds and lowest among U.S. large-cap funds.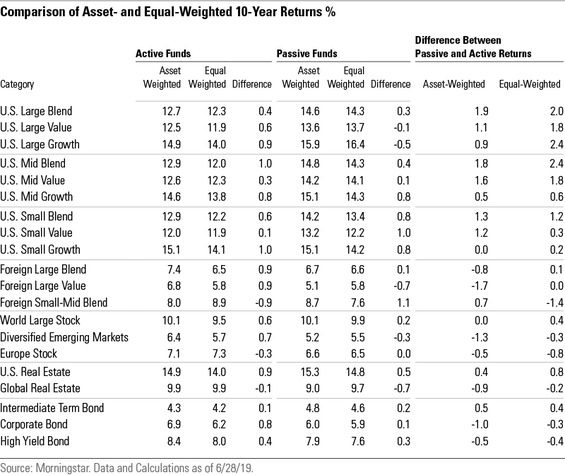 4. The distribution of 10-year excess returns for surviving active funds vs. passive funds varies widely across categories. In the case of U.S. large-cap funds, it skews negative. This indicates that the likelihood of picking an underperforming manager, and the potential penalty for doing so, tends to be greater than the likelihood of finding a stronger performer and being able to earn those potential rewards. The inverse tends to be true of the fixed-income and foreign stock categories we examined, where excess returns among surviving managers skewed positive over the past decade.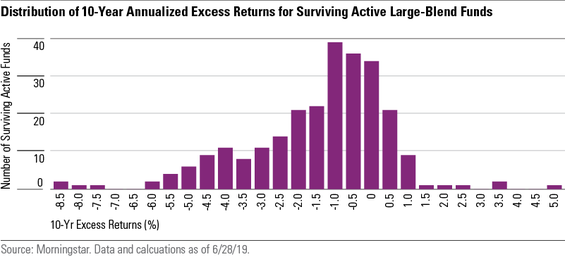 5. On a positive note, our data suggests that the average active dollar has outperformed the average active fund. This implies that investors have favored cheaper, higher-quality funds.
Still, most active managers' long-term track records leave much to be desired. In general, actively managed funds have failed to survive and beat their benchmarks, especially over longer time horizons.
This blog post is adapted from research that was originally published in  Morningstar Direct™.  If you're a user, you can  access the full paper.  If not, take a  free trial.